Sweet Potato Pancakes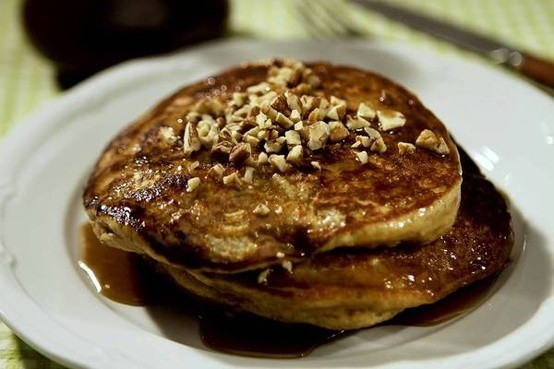 A few years ago when I was in Atlanta, my cousin took me brunch at Highland Bakery.  Best brunch I have ever had!  One of the things that I enjoyed most was the sweet potato pancakes.   While they are not hard to make, they do take time (do not skip the brown sugar butter sauce in favor of regular syrup!).  But they are sooo worth it!  And be sure to visit Highland Bakery if you are in the Atlanta area.
Highland Bakery's Sweet Potato Pancakes
Ingredients
Pancakes
2

medium-small sweet potatoes

3/4

cup

whole-wheat flour

3/4

cup

all-purpose flour

1

tablespoon

baking powder

1

teaspoon

salt

1/2

teaspoon

nutmeg

1/4

cup

1/2 stick unsalted butter

2

eggs

1 1/2

tablespoons

packed brown sugar

1 1/2

cups

milk

Vegetable oil for cooking
Brown Sugar Butter Sauce
Toasted pecans for garnish

Brown Sugar Butter Sauce

This simple sauce

used instead of maple syrup, will remind you of pralines.

1/2

cup

1 stick unsalted butter

1

cup

packed brown sugar

1/4

cup

water
Instructions
Pancakes
Scrub the sweet potatoes and pierce all over with a fork. Microwave 6 to 7 minutes on high, until they are easily pierced through with a knife or fork (I prefer to bake potatoes, I think they taster sweeter when baked). Slit the sweet potatoes lengthwise and let cool enough so you can handle them, about 5 minutes.

Meanwhile, measure and sift together into a large mixing bowl the whole-wheat flour, all-purpose flour, baking powder, salt and nutmeg. Set aside.

When potatoes are still warm but not too hot to handle, spoon the flesh into a measuring cup. When you have 1 1/4 cups, transfer to the bowl of a food processor.

Add the butter and process until smooth.

Add the eggs and brown sugar and blend until smooth.

Add as much of the milk as the bowl can easily contain and blend.

Spoon the sweet potato mixture and remaining milk into the bowl with the dry ingredients. Mix with a spoon until just combined.

Heat a skillet or griddle lightly coated with vegetable oil on medium heat.

Drop heaping spoonfuls of batter onto the hot griddle.

When pancakes start to bubble, flip and cook until golden.

Serve with Brown Sugar Butter Sauce and toasted pecans.
Brown Sugar Butter Sauce
In a medium saucepan over medium heat, melt the butter.

Add the sugar and stir until sugar is dissolved.

Whisk in the water and let simmer for 8 to 10 minutes.