Chinese Lemon Chicken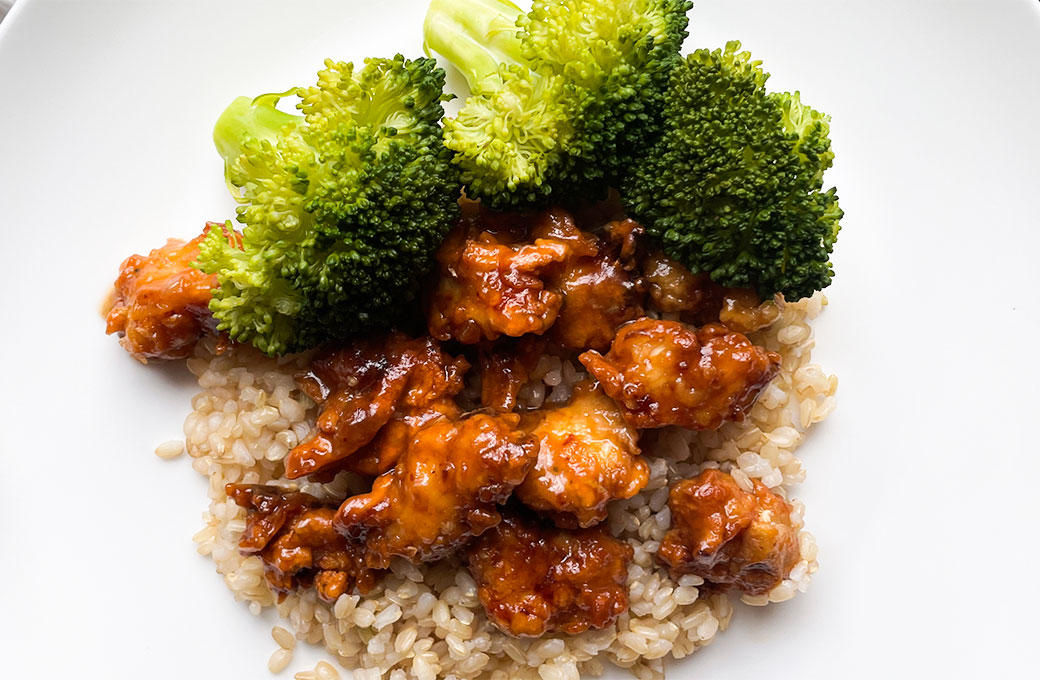 I started making Chinese Lemon Chicken at home because they took it off the menu at P.F. Chang's. They always seem to take my favs off the menu but that's a story for another day. This sweet and tangy Chinese Lemon Chicken recipe will make you forget about ordering takeout! Serve it over rice or noodles with some steamed vegetables for a meal the family will love!
Before you get started, a few things to note:
When you remove the fried chicken pieces from the pan, you have to try one—or two, or three. They are like the best chicken bites ever!
The secret ingredient to this recipe is Chinese Shaoxing Wine also known as Chinese cooking wine. It's the real star of Chinese cooking and what makes this dish taste like it came from a Chinese restaurant. If you can't find it or need a substitute, you can use:
Dry sherry
Mirin—another type of sweet Chinese cooking wine, but if you use it skip the sugar in the recipe
Cooking Sake also known as Japanese Rice Wine
Chinese Lemon Chicken
Ingredients
1.5

lbs

chicken breast

cut into1 inch cubes

2

tbsp

soy sauce

½

cup

chicken or vegetable stock

2

tbsp

lemon juice

(juice of about 1 medium lemon)

finely grated zest of 1 lemon

3

tbsp

sugar

1

cup

all-purpose flour

1

tsp

finely grated ginger or ginger paste

2

garlic cloves

finely chopped

1

tsp

honey

3

tsp

cornstarch mixed with 3 tbsp water

vegetable oil for frying
Marinade
1

tbsp

Chinese Shaoxing wine

2

tbsp

soy sauce

1

egg white
Instructions
Mix the marinade ingredients in a small bowl and set aside.

Add the chicken pieces and marinade to a gallon sized storage or freezer bag. Make sure all the chicken is covered with the marinade. Let marinate for 20 minutes.

In another bowl mix together the chicken stock, soy sauce and sugar.

Add the flour to a separate large bowl. Pour the chicken and marinade into the bowl with the flour. Use your hands or a large spoon to mix the chicken and marinade with the flour to form a craggy coating. It's will get kind of gooey but don't worry about it, that's exactly how it should be.

In a separate bowl, add the lemon juice and zest.

Fill a wok or frying pan to about 1/3 full with vegetable oil on high heat. When the oil is hot enough for frying at 325°F, shake excess flour from the chicken pieces and add to the pan. Cook chicken pieces in 2 or 3 batches for about 2-3 minutes on each side or until golden brown on each side. Remove from pan and drain on paper towels.

In another saucepan on medium heat, add 1 tablespoon of oil, garlic and ginger. Cook for about 10 seconds or until fragrant. Then add the chicken stock mixture. Cook for 2-3 minutes until the sugar has dissolved. Then add the lemon juice and zest. Simmer for another minute before adding the cornstarch mixture. Cook for another 4-5 minutes or until sauce has slightly thickened. Add the chicken pieces and toss until evenly coated. Serve over rice or noodles.
BE INSPIRED,