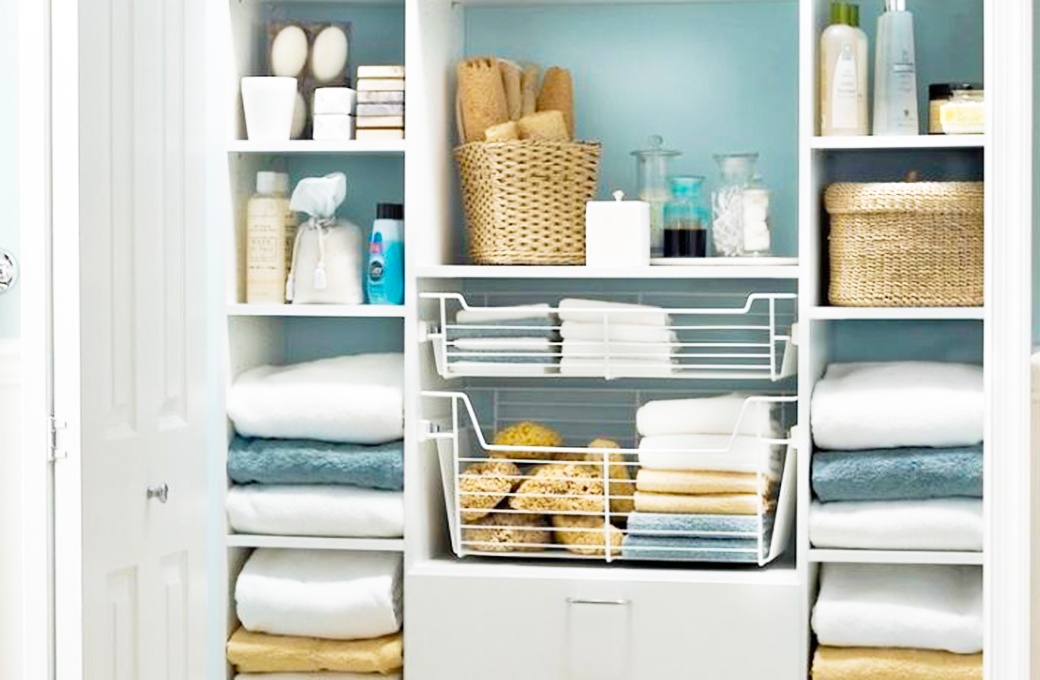 This week's spring cleaning project is the linen closet. Whether you have a small, average, or large linen closet, there are always room to maximize the space to create a beautifully organized closet. Getting this space in order will allow you to clearly see everything and easily access what you need when you need it. If you fear a linen avalanche every time you open the door, check out these tips to organize your linen closet.
Tips To Organize Your Linen Closet
Take everything out of the closet
As you remove items, sort them into 3 piles:
things you want to keep
things you need to relocate to a more appropriate space
things you want to toss
It's always a good idea to keep a few ragged or stained towels and washcloths to use as rags and to clean up messes. Before you toss the rest, consider donating the remaining old towels, sheets and blankets to a local animal shelter as they are always in need of these items.
Purge any cleaning, beauty, or personal products that are expired, worn out, or you want to get rid of.
Clean the closet
Wipe down the shelves and door with an all-purpose cleaner. Add shelf liner to create a clean look.
Consider your space
After purging, I was able to figure out the best storage solution for what items were left. I settled on a variety of storage baskets. I wanted to keep to keep sheets out of sight and organized by size. The baskets also helped create a more uniform look. I decided to roll washcloths for a tidy look with easy access.
Whatever you decide, keep in mind that there are tons of baskets and bins to choose from at many different price points. So you don't have to spend hundreds to create a beautifully organized linen closet.
Create zones and organize like items
If you are keeping linens that have been in the closet for a while, consider washing before putting them back. Take a few minutes to refold sheets and towels. I prefer to fold mine in thirds to maintain a neat look and maximize space. Plus, that's the way my mother taught me!
I stored all of the sheets on the same shelf. As I mentioned, I sorted my sheets by size and I also added a basket for guest linens. You can also use shelf dividers to keep things sorted.
The black metal bins were used to hold small and travel toiletries along with first aid items. Cleaning products, bathroom mats, and other miscellaneous items are stored in the large baskets on the floor.
A few more tips:
Add labels—When you are using baskets or bins that you cannot see through, it's a good idea to add labels so you know exactly what's inside.
Use the door—Don't forget to utilize the space on the door by adding a door organizer or mounting an ironing board. After I took the pics and started writing this post, I realized I forgot to put up the ironing board holder and storage basket on the door. I'll come back and update the post after I do.
Keep it fresh—Clean linen smells fade so add a sachet or air freshener to keep the closet smelling fresh.
Product List…
Striped baskets: The Container Store
White/tan cotton baskets: Kohl's (in-store)
Black wire baskets: Homegoods (in-store)
 Bin clip label holders: The Container Store
Large woven baskets: Repurposed from my laundry room
Shelf liner: Target
The Finished Linen Closet
BEFORE: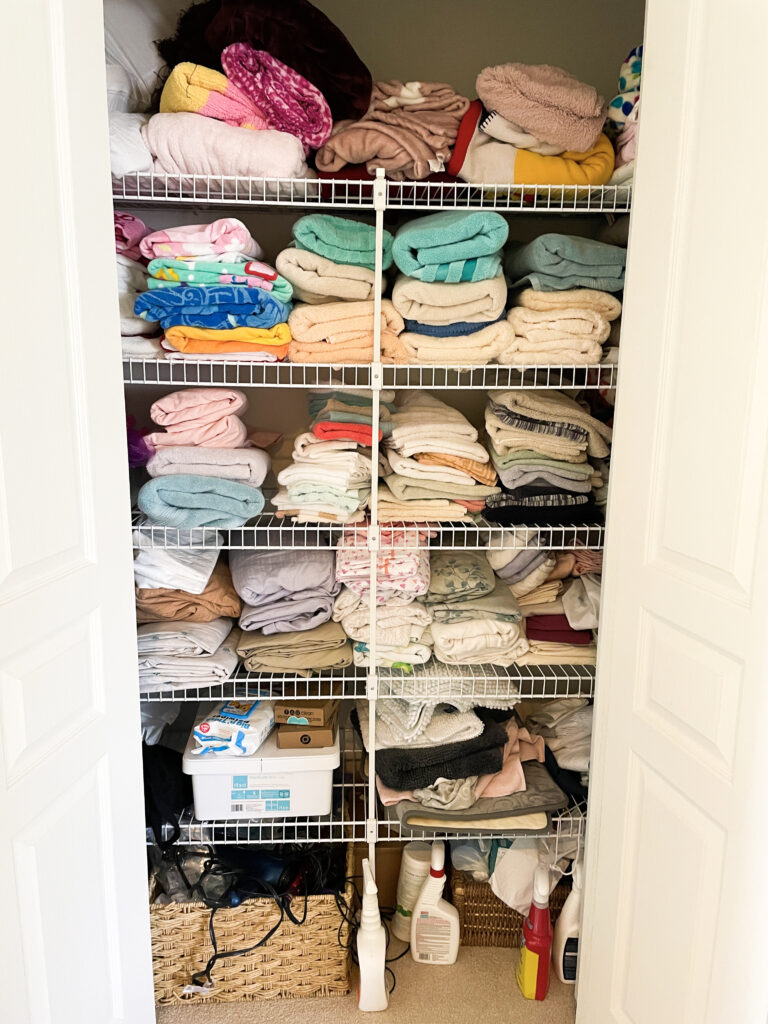 AFTER:
I'm in the process of switching my towels to white so I purged quite a bit! I bagged up all of the sheets that I decided to let go of, realizing that I only really use the same three sets. There were also quite a few items that needed to be relocated which opened up a lot of space.
I remembered that I already had a few woven baskets that were the perfect size to hold the blankets, beach towels, and other large items. And they fit the space perfectly.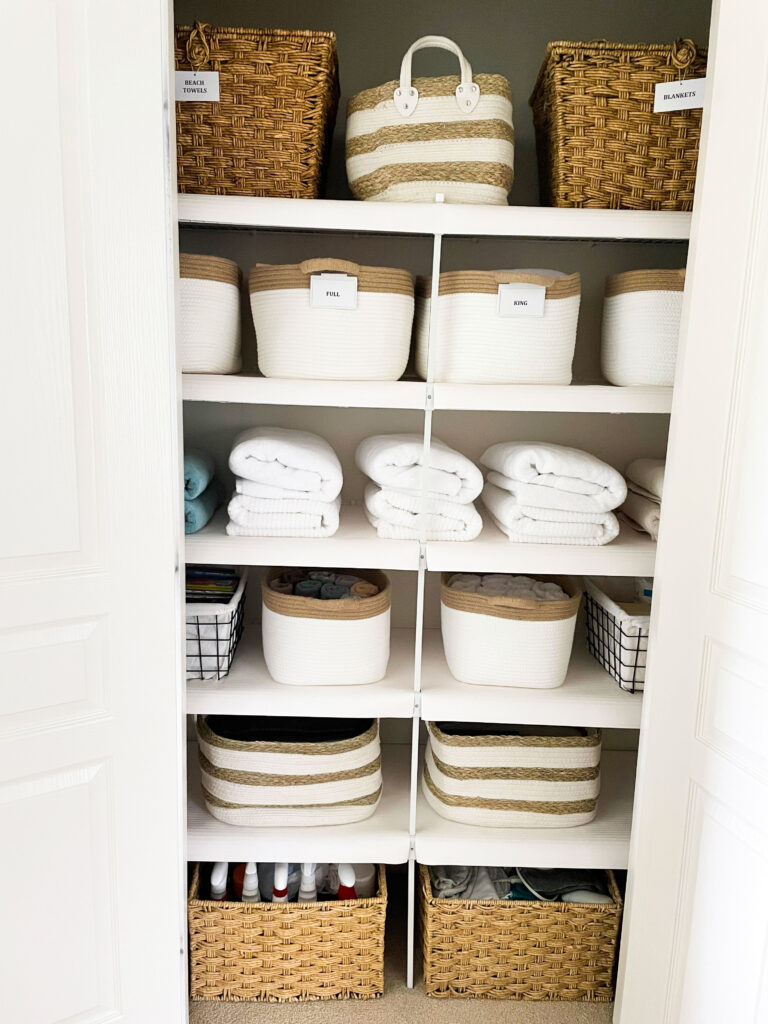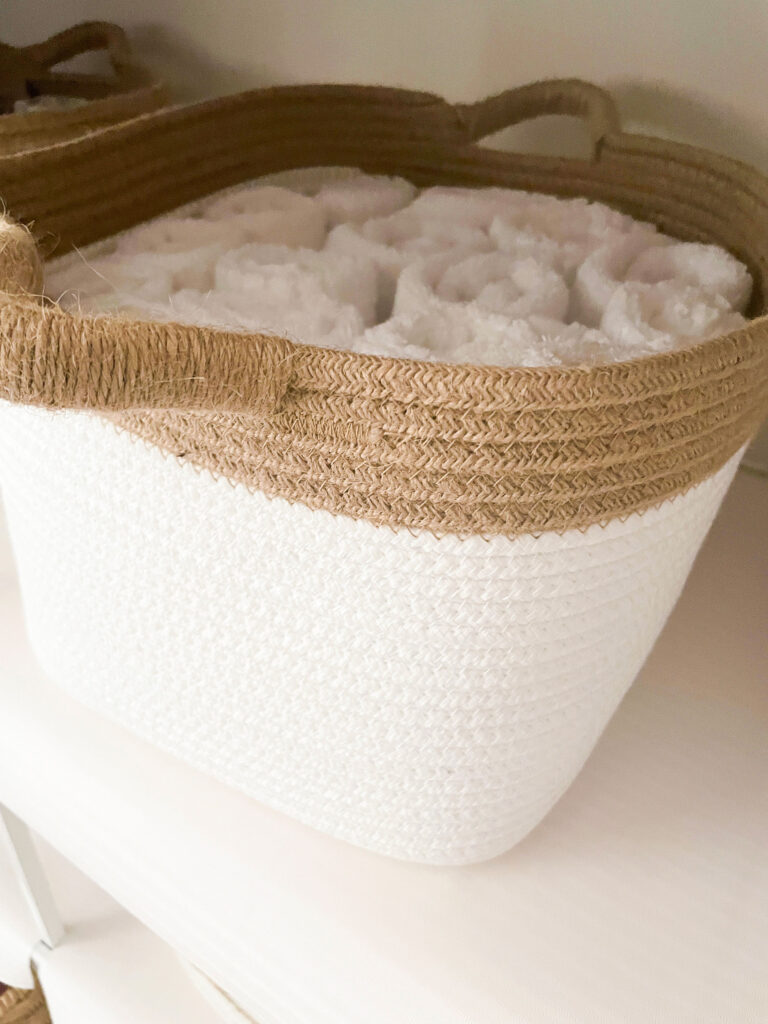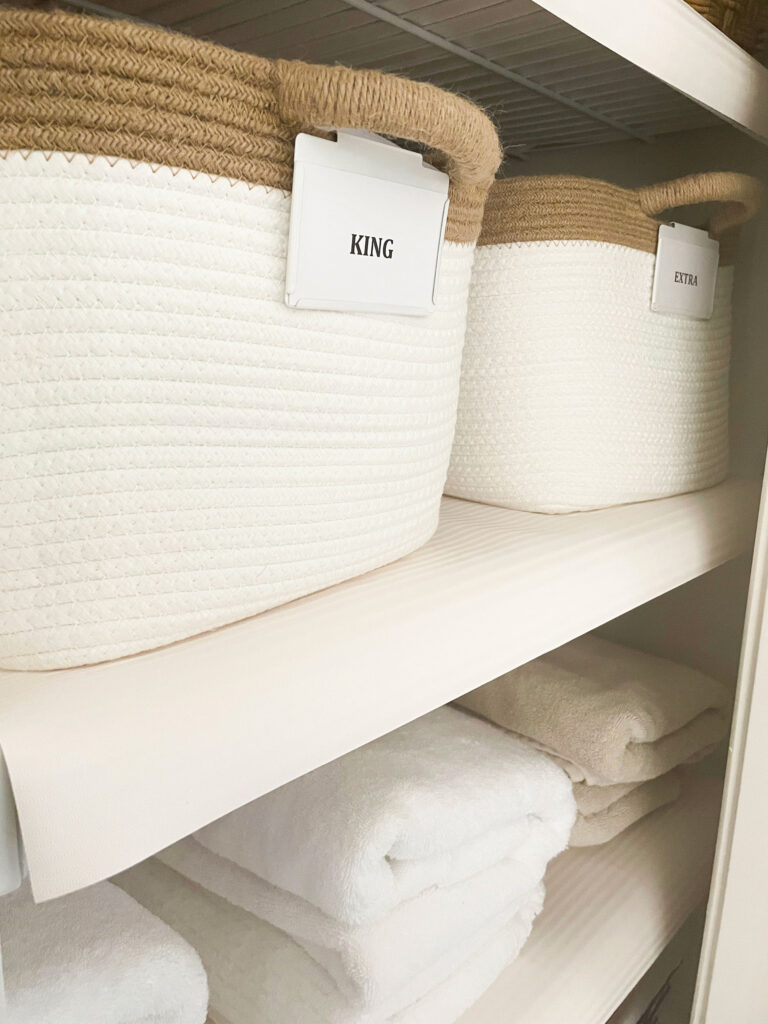 Use these tips to organize your linen closet and you'll be inspired to keep it neat and tidy. And if you're ready to tackle the rest of house, get my Spring Cleaning Checklist for tips and tricks to clean, purge and refresh your home for spring!
BE INSPIRED,