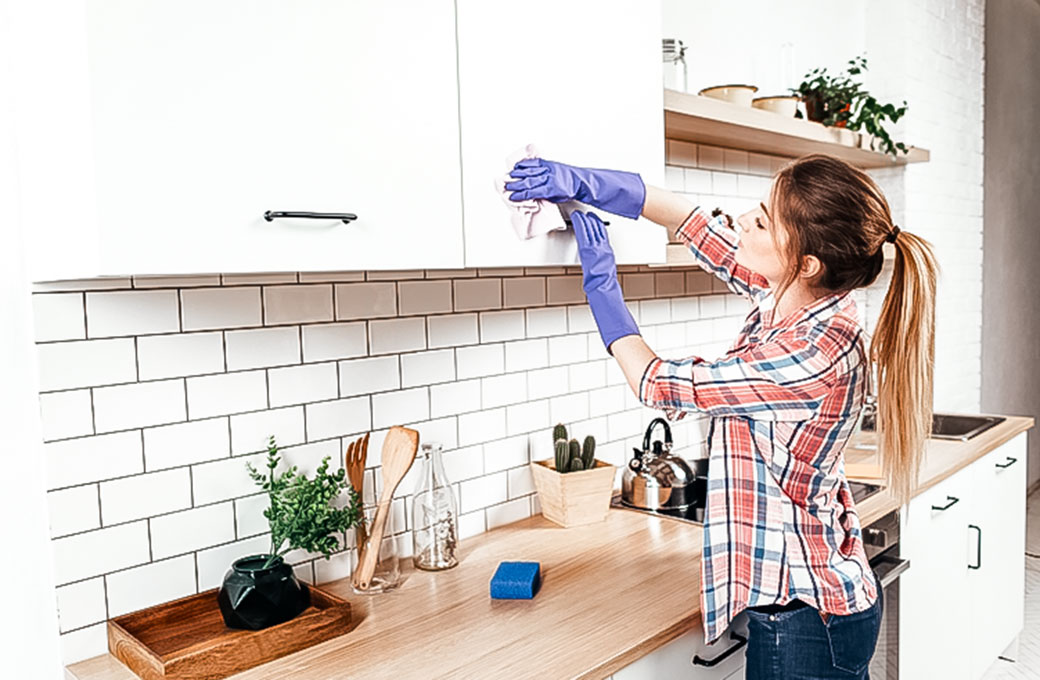 Spring has officially arrived! That means it's time to clean, purge, and organize. If the thought of getting started makes you anxious, don't be! I've got you covered. I'm sharing a Spring Cleaning Checklist and tips to organize your home to help make this daunting task more manageable.
After being cooped up for months, it's time to throw open the window and let the fresh air in. But unless you want to let in all the dust that comes with it, we need to do some cleaning first. So for the next month, we are going to work together to make the process easier and maybe even enjoyable! My Spring Cleaning Checklist gives you a room-by-room overview of all the spaces that need a good going over to get your whole house cleaned, purged and organize for spring. I'm also sharing tips on organizing a few of those tricky spaces in your home that require a bit of creativity to make them more functional.
Whether you decide to knock it out in a weekend or over several weeks, with my Spring Cleaning Checklist and tips to organize your home, once you start you'll be inspired to see it through. And isn't the feeling of a clean, organized house just the best? When I'm finished, I like to sit, look around, and just enjoy the clean smell before it fades and my "roommates" start touching things. Lol!
From where to start to the most effective cleaning methods, here's what you need to know…
Tips for spring cleaning
Review your supplies
Before you get started, make sure you have everything you need. Here's a list of essentials to help you get started:
Cleaning caddy – To carry your supplies from room to room
Microfiber cleaning cloths – To eliminate lint and streaks
Cleaning rags – best for areas that attract a lot of dirt like baseboards, window sills, etc.
Vacuum cleaner with attachments – Preferably one with a hepa filter
Mop
Bucket
Goof Off – To remove scuffs, stains, and marks on walls, furniture and so much more
Scrub brush
An old toothbrush – To clean small and hard to reach spaces
Squeegee – To clean windows and dry shower tile and doors
Lint roller – I use it on my velvet couch or anywhere there is dust and lint that might need a more gentle touch
Garbage bags
All-purpose cleaning spray
Disinfectant cleaner
Furniture polish
Soft scrub
Stainless steel cleaner – If you have any stainless steel kitchen appliances
Spot carpet cleaner – For spot cleaning any carpet stains. I also like to have the carpets professionally clean at least once a year. And I have a carpet cleaner if I want to clean any areas in between professional cleanings.
The Works Toilet Bowl Cleaner – If you have any hard to remove toilet stains, this will do the trick
Barkeeper's Friend – Great for cleaning your kitchen sink, stubborn stains on pots and pans, tarnished silver and more
Baking soda – Make a paste with a bit of white vinegar to clean tough oven stains, baking sheet spills and your coffee pot. Apply to the stain, let it sit for about 30 minutes then use a sponge or soft cloth to wipe clean. Clean your garbage disposal by pouring 1/2 cup of baking down the drain followed by 1 cup of white vinegar. It will bubble up like a science project but don't be alarmed. Once the fizz dies down, run the hot water for a few minutes.
White vinegar – To clean any items that have mineral build up like medical devices, humidifiers, and coffee makers as well as floors and windows. Use it full strength to kill pesky weeds. Make an all-purpose cleaning solution with 1/2 cup of vinegar, 1 cup of water and 10-15 drops of essential oil like lavender, orange, or eucalyptus. Just don't use on natural stone countertops as it can cause pitting over time.
Make a plan
Once you review the Spring Cleaning Checklist, decide where you are going to start. Before you begin, make sure you have all the supplies you need for that space on hand to avoid breaking your rhythm once you start. Choose a room and create a schedule that gives you enough time to finish. Be sure to allow extra time for rooms with closets and other spaces that you feel need some extra attention. Some rooms might take a few hours while some might take a few days. Decide if you want to commit to a certain number of hours per day or commit to finish a specific task each day. Do what works best for you. Be sure to clean top to bottom, starting with ceiling fans, windows, and blinds and ending with baseboards and floors. This method brings the dust and dirt down to the floor, which should be the last thing you clean before you finish a room.
Prepare to purge
It's always good to purge as you clean. Whether you are cleaning out your closet, your basement or your junk drawer, you will find things you don't want or don't need. Rather than dumping everything out and then sorting, make 4 piles:
Toss – Items that are broken, damaged, or in bad shape
Donate – Usable items in good condition that you would like to give to charity
Sell – Valuable items that are new or used but in great condition
Keep – Items you want to keep
Once you have your piles, bag and box the items accordingly. Choose a charity to drop off the donations or schedule a pick up from your home with organizations like Easter Seals, Purple Heart, Salvation Army and Goodwill. Post items you want to sell on sites like NextDoor, OfferUp, Facebook Marketplace, and Poshmark.
Make it functional
There is no use in having a perfectly neat space with everything in its place if it doesn't flow with the way you use it. Make sure you are organizing your space in a way that works best for you. After you've decided what you are going to keep, organize by putting all 'like' items together. For example, if you are reorganizing the linen closet after you have purged, put all of the towels together by type, all of the sheets together by size, and so on. To make your kitchen more functional, think about what items you use most and make sure they are toward the front of the cabinet and easy to reach. Things that you don't use often should go on the higher shelves. Consider tiered shelf organizers to maximize space. Get a few drawer organizers in different sizes to help declutter junk drawers. If you have items that you are still not sure how to organize, visit The Container Store for tons of storage ideas and inspiration.
Get the family involved
If you've got kids, you've got helpers! No matter their age they can still pitch in to help get the job done. Get them involved by letting them take charge of sorting their own items. Then together you can decide if an item is in the right pile. Explain to them why it's important for them to pass along toys and games they have outgrown or no longer use to other kids who are less fortunate. Have them tag along with you to drop off the donations so they can experience the joy that comes with giving to others. Implement a new rule to put all toys and games away before bedtime. Provide storage spaces like cubbies, bins and baskets in different parts of the house to make it easy for kids to keep items organized.
Make it fun
Just because your cleaning doesn't mean you can enjoy it! Crank up your fav playlist and sing your heart out while you clean. And take a few dance breaks while you're at it! Once you start a room, you might want to keep going until it's done. Just make sure you don't run out of gas. Have some of your favorite snacks on hand for breaks when you need to recharge your battery. And when you're all done, reward yourself with a special treat!
Spring Cleaning Checklist
All Rooms
Dust ceiling fans and light fixtures
Clean window sills and window tracks
Vacuum curtains and wipe down blinds
Dust curtain rods
Wipe down baseboards and use a mop or broom to dust ceilings and corners
Wipe down walls and doors
Disinfect doorknobs, cabinet handles and light switches
Sweep and clean floors and vacuum carpet (clean carpet if needed)
Clean air vents
Replace HVAC filter
Replace smoke detector batteries
Kitchen
Wipe down outside of fridge (don't forget to clean the top!)
Clean out the inside of the fridge and freezer including shelves and drawers
Wipe down the microwave, coffeemaker and other small appliances
Empty the crumb tray of toaster and toaster oven
Clean oven and stovetop
Degrease backsplash and range hood
Wipe down top, inside, and outside of cabinets and wipe shelves
Sanitize the sink and clean the garbage disposal
Shake out and wash small area rugs or floor mats
Clean and organize drawers
Clean and organize pantry
Clean and dust decorative items
Bedrooms
Dust and polish furniture
Clean and organize drawers and closets
Donate unwanted items
Wash bedding and pillows
Rotate mattresses
Disinfect kids' toys and wash stuffed animals
Bathrooms
Clean vanity sink, shower, and bathtub
Scrub tile grout and wipe down all tile
Wipe down the outside of shower doors
Wash the shower curtain, curtain liner, and floormat
Replace shower curtain liner if disposable
Clean mirrors
Scrub toilet and tile around toilet
Take expired medication to drop off site
Discard expired toiletries and makeup
Clean and organize draws and cabinet underneath sink
Living/Family Room
Clean and dust mirrors, frames, and decorative items
Vacuum all upholstery
Wipe down lamp shades
Dust and polish furniture

 

Wash or spot clean all throw pillows and blankets (follow directions on item)
Dust electronics
Disinfect remote controls
Dining Room
Clean and dust mirrors, frames, and decorative items
Vacuum and spot clean upholstered chairs
Carefully clean items in china cabinet
Clean and dust dining room table
Office
Clean electronics
Review and shred or recycle unneeded paperwork
Sanitize keyboard, mouse, and remote control
Clean and dust bookshelf, frames, and decorative items
Laundry Room
Clean behind washer and dryer
Clean washing machine
Clean dryer vent
Clean lint trap
Sanitize utility sink
Organize laundry supplies
Follow me on Instagram to see some of my fav organization hacks and cleaning tips to refresh your home for spring. Happy cleaning!
Be inspired,