Easy Skillet Lasagna Recipe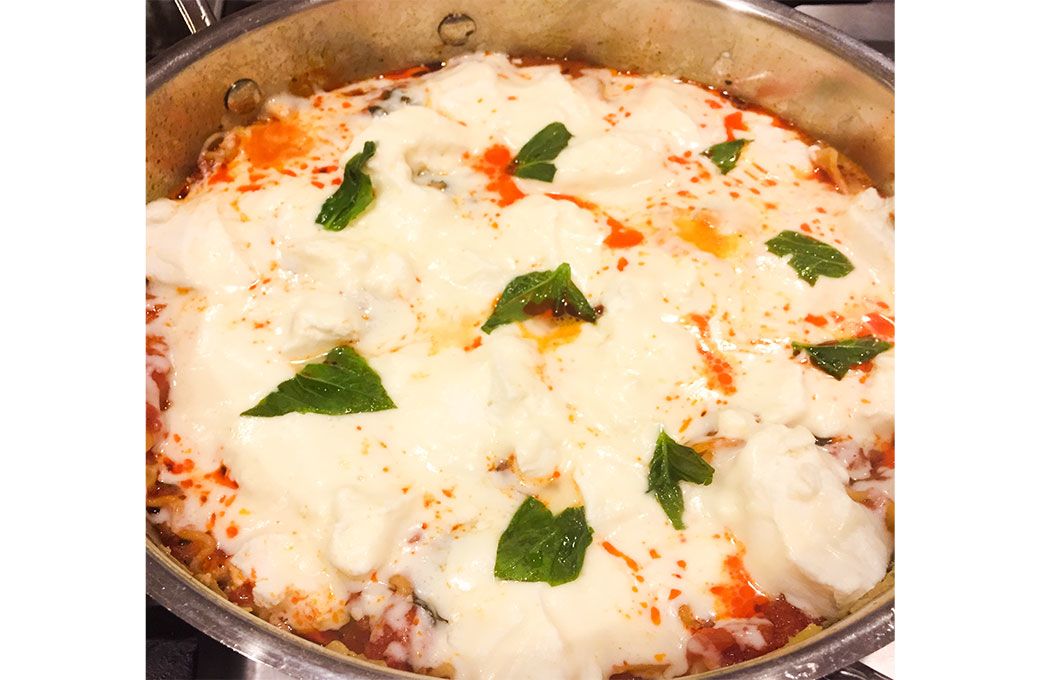 We love lasagna in my house but I don't always love all the steps it takes to make it. But this easy skillet lasagna recipe requires no boiling, no baking and is ready in no time!
Before you get started, I want to share a few secrets to making a really good lasagna…
Polly-O is the best ricotta cheese hands down. Try to get it on sale though because it's kinda pricey, which why I don't always use it. But when I do, I can definitely taste the difference.
Try the Kraft Mozzarella Cheese with a hint of Philadelphia Cream Cheese. Again, you will taste the difference.
Victoria's White Linen Marinara Sauce. Wow! This is the best tasting jarred sauce I have ever had! The closest to homemade you will ever find in a jar. It can be hard to find in average supermarkets, but Costco does carry it. Shout out to my awesome mother-in-law for buying some for me:)
And just a note about seasonings—my no fail combo is Lawry's Seasoned Salt, Lawry's Seasoned Pepper and Adobo. I use these 3 as a base on just about everything I cook.
EASY SKILLET LASAGNA RECIPE
Ingredients
1/3

cup

chopped onions

2

gloves minced garlic

Fresh basil

1

tablespoon

Italian seasoning

Pepper to taste

Salt to taste

1

tablespoon

olive oil

3/4

lb

ground turkey or beef

8

lasagna noodles

3

cups

spaghetti sauce

1

cup

ricotta cheese

1

cup

mozzarella cheese
Instructions
Add olive oil, onions and garlic to a large pan. Sauté until onions are translucent.

Add ground turkey or beef to pan. Sprinkle with salt, pepper, and Italian seasoning. Cook until brown. Drain oil from the pan.

Add 1/4 cup of water and 2 cups of the spaghetti sauce. Break the lasagna noodles into 3 or 4 squares and layer them in the pan. They don't have to be perfect squares, just toss them in.

Cover the noodles with the remaining sauce. Top with a few fresh basil leaves. Cook until noodles are fork tender.

Add a layer of ricotta cheese and cook for about 5 minutes. Then sprinkle mozzarella cheese.

Add a few more basil leaves and cover until cheese melts.

Done in about 40 minutes, I promise this one pan wonder is the easiest lasagna you will ever make! Enjoy!
Be Inspired,