I love a good cup of hot chocolate and this homemade hot chocolate mix is perfection!  Just the right of creamy chocolaty goodness…and super easy to make.  Keep a jar on hand for snowy cold days or layer it like I did, add a gift tag, and you've got a great holiday gift!
Since I decided to give each of J's teachers a jar of homemade hot chocolate mix, I wanted to add a little something and thought peppermint spoons would be a nice touch.  I was in Michael's looking for a silicone spoon mold and rolled up on these…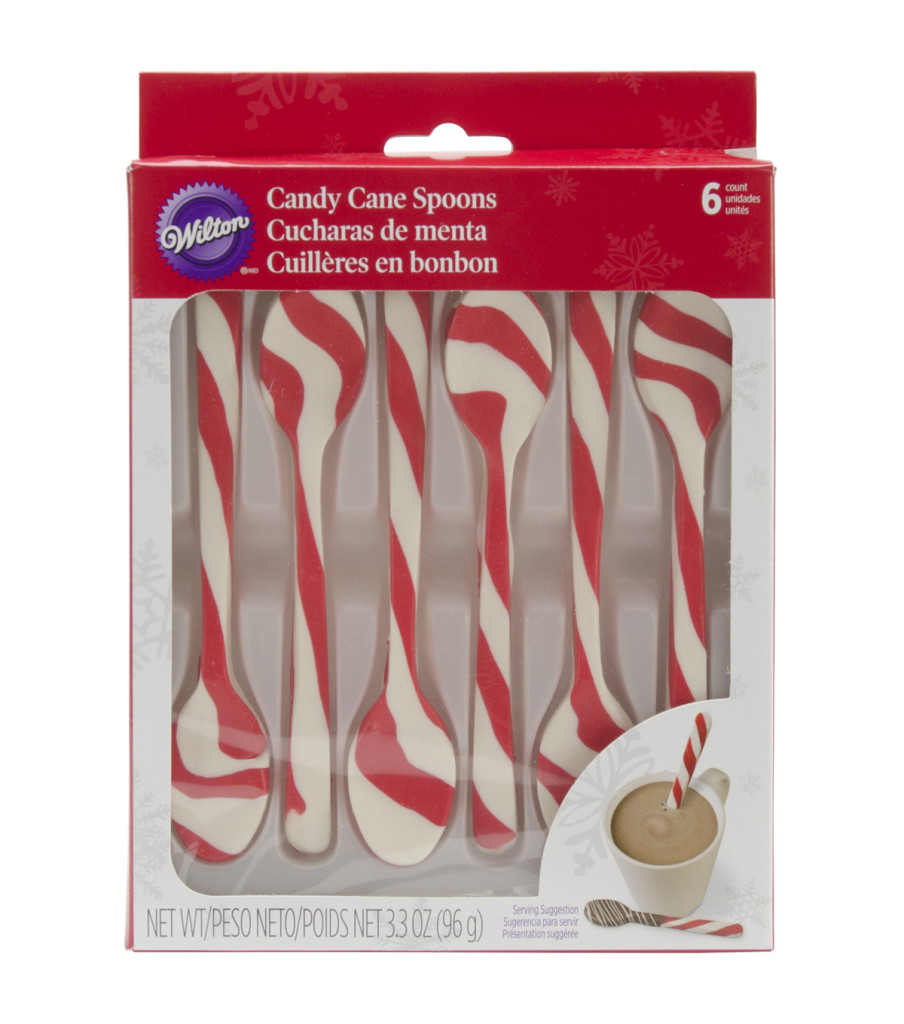 So I saved myself the trouble and used the Wilton Candy Cane Spoons instead.  They are super cute as is, but J wanted to decorate them so we dipped them in chocolate and added some holiday nonpareils before we made the hot chocolate mix.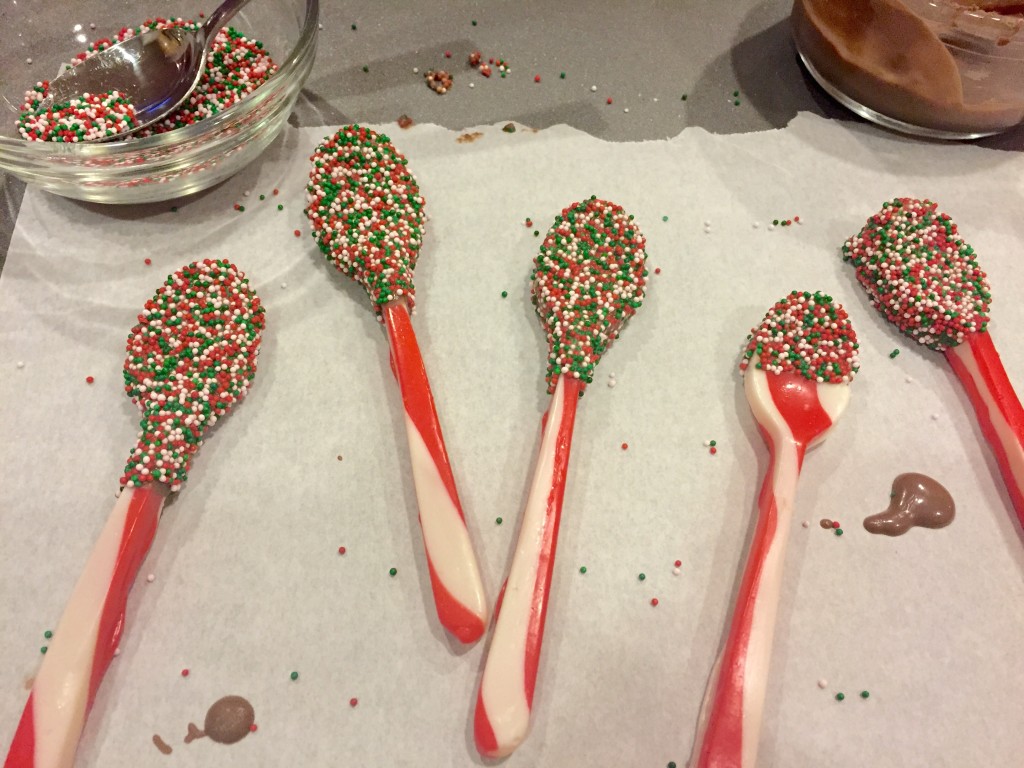 Keep them in the fridge until you are ready to attach them to your jar of hot chocolate mix.
HOMEMADE HOT CHOCOLATE MIX
Ingredients
3

tablespoons

unsweetened cocoa powder

1/4

cup

milk powder

1/4

cup

sugar

1/8

teaspoon

salt

1

tablespoon

semi-sweet chocolate chips

Marshmallows

1 - 8

ounce

mason jar

One package of Wilton Candy Cane Spoons

optional

Cellophane pretzel bags

for candy cane spoons

Twine or ribbon
Instructions
Add milk powder to the jar.  Tap it a bit to make sure the layer is even.

Slowly add cocoa powder to the jar.  Shake it a bit to get the layer even, but not too much or it will mix with the milk powder.

Slowly pour the sugar into the jar, then sprinkle the salt on top of the layer of sugar.

Add the chocolate chips and fill the rest of the jar with marshmallows.

If you are adding candy cane spoons, put them in a pretzel bag and cut the extra bag from the bottom according to the length of the spoon.

Use twine or ribbon to attach the spoon and tag to the jar.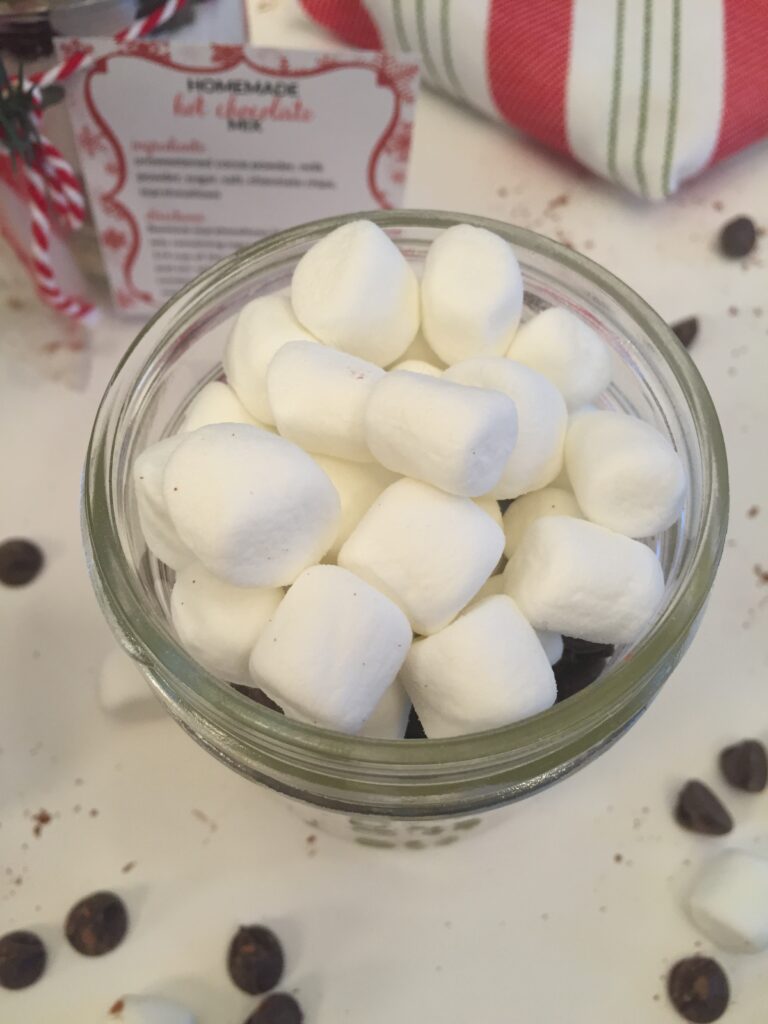 To make it oh-so-easy for you to give this oh-so-pretty jar as a gift, I've included the jar label and instruction tag to attach to your jar.  Download the jar label and print on sticker paper (you can find it at Staples or any office supply store).  Use a 2 1/2 inch circular punch to make round labels that will perfectly fit the lid of a mason jar.  Download the instruction tag and print on white cardstock.  Cut around the edge of the design and use a small hole punch in either upper corner of the tag to make a hole for the twine or ribbon.
If you are enjoying the homemade hot chocolate mix at home, mix all of the ingredients above in a bowl and store in an airtight jar.  Add 1/4 of the mix to 8 ounces of hot water.  Stir until completely combined.  Top with marshmallows and enjoy!
Be Inspired,