Shrimp Risotto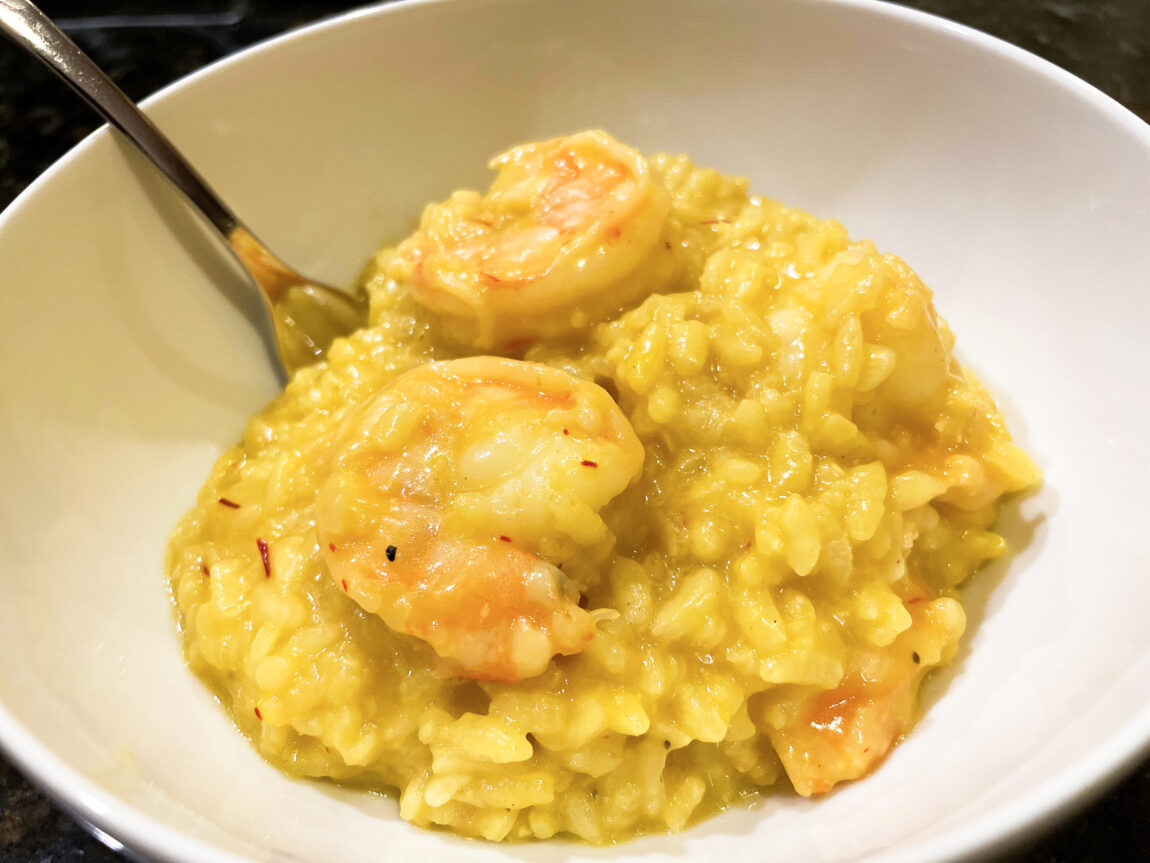 I love a good one-pan meal! Easy to make and less mess to clean. This shrimp risotto is one of those meals. Rich and creamy with tender, juicy shrimp, it's sure to impress anyone you make it for.
If this is your first time making shrimp risotto, don't let the process intimidate you. It's actually quite simple. Just remember that this decadent Italian rice dish does not like being rushed. So be prepared to spend about 30 minutes dedicated to stirring the rice and adding broth, a ½ cup at a time, stirring and cooking slowly until the broth is absorbed.
Besides the shrimp, two other key ingredients make this dish so delicious…
Arborio Rice
Arborio rice is a variety of short-grain best known as the rice used to make risotto. Cooking the rice releases starch, resulting in a firmer, chewier, and creamier rice compared to other types of rice.
Saffron Threads
Made from the stigmas of the fall-flowering plant Crocus sativus, saffron is the world's most expensive spice. Luckily, you only need a pinch of threads to wake up the flavor of most recipes calling for saffron, including this one. Saffron provides a rich golden color and aromatic flavor to food. You can find it at most grocery stores.
A few things to note about this shrimp risotto recipe…
Do not rinse the rice. It will remove the starch from the outside grains that's needed to make the end result nice and creamy.
Make sure you don't overcook the rice. It should be creamy but not mushy. Not stiff, but not runny either.
This dish pairs nicely crisp green vegetables like asparagus, broccoli, green beans, or a green salad.
Although the saffron threads are recommended, if you decide not to add them to your shrimp risotto, it will still be tasty without them.
Shrimp Risotto
Ingredients
1.5

lbs

shrimp peeled and deveined

1

medium shallot finely chopped

3

cloves

garlic

3

tablespoons

olive oil

1

tablespoon

butter

1

cup

arborio rice

½

teaspoon

saffron threads

4

cups

chicken or vegetable stock

½

cup

grated parmesan cheese

Seasoned salt

pepper to taste
Instructions
Add 2 tablespoons olive oil to a large saucepan over medium heat for about 2 minutes. Add shrimp to the pan. Season to taste and cook until they are pink and opaque, stirring occasionally. This should take about 5 minutes. Remove from the pan and set aside.

To the same pan, heat the remaining tablespoon of olive oil and butter. Add the shallots and garlic to the pan and cook for about 3 minutes. Add the rice and cook until slightly translucent for about 2 minutes, stirring often.

Add 1 cup of the stock and cook, stirring, until it has been absorbed by the rice. Continue to cook and stir, adding ½ cup of the stock at a time as the liquid is absorbed by the rice. You may not need to use all the broth.

When the rice is just about tender, after about 20 minutes of stirring and adding stock, use your fingers to break up the saffron threads as you add them to the rice. Stir in the parmesan cheese. Add the shrimp back to the pan. Add more stock as needed, until the rice is just tender and creamy. Serve immediately.
Enjoy!
Be inspired,