Herb-Roasted Turkey Breast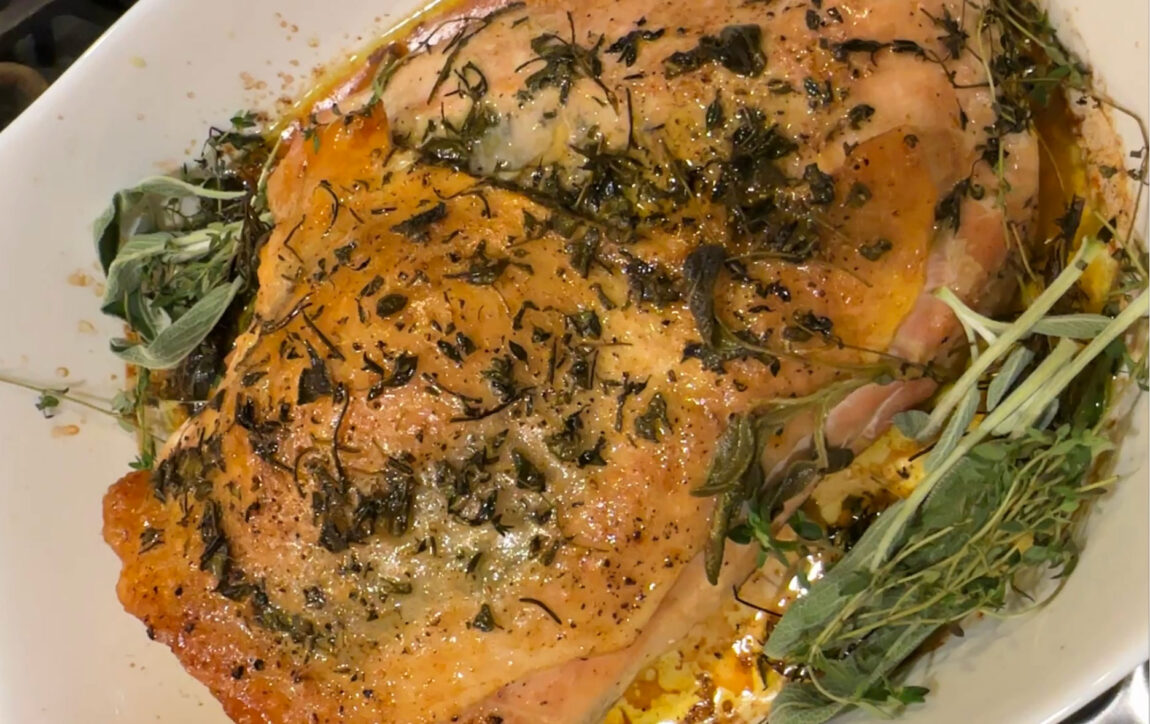 It's almost Thanksgiving, and turkeys everywhere are being prepared for their big moment. But even though turkey is supposed to be the star of the show, I find that we always have too much left over every year. One of the ways to overcome this issue is to make this herb-roasted turkey breast. It's juicy, tender, flavorful, and just the right amount of turkey for a smaller gathering. Plus, it takes less time in the oven, so you can get Thanksgiving dinner on the table even faster.
Herb-Roasted Turkey Breast
A few things to note before you start…
If your turkey breast is frozen, make sure to defrost it in the fridge at least 2 days before you plan to cook it.
I prefer to use fresh herbs, but dried herbs also work.
The seasonings I used are just a guideline. Feel free to season your turkey breast with your favorite spices. The herbs will do the rest!
The cook time for your turkey breast will depend on the size. Typically, it should roast for 20 minutes per pound.
Herb-Roasted Turkey Breast
Ingredients
3-5

lb

turkey breast

2

tablespoons

olive oil

3

tablespoons

melted butter

1

tablespoon

fresh rosemary leaves

1

tablespoon

fresh sage leaves

1

tablespoon

fresh thyme leaves

2

cloves

fresh minced garlic

1/4

teaspoon

fresh ground pepper

½

teaspoon

adobo seasoning

1

teaspoon

Lawry's Seasoned Salt
Instructions
Preheat oven to 375 degrees.

Clean turkey breast and pat dry. Place turkey skin side down in a 9x13 baking dish or roasting pan.

Finely chop fresh herbs and add to a small bowl.

Add olive oil, butter, and garlic to the bowl and mix well.

Sprinkle half of the pepper, Lawry's and adobo onto the turkey.

Spread about a tablespoon of the herb mixture onto the turkey.

Flip the breast over so that the skin side is up. Sprinkle the rest of the seasonings on the turkey. Use your fingers to gently loosen the skin. Add some of the herb mixture underneath the skin and spread it around. Spread the remaining herb mixture on top of the turkey breast skin. Add a sprig of rosemary, sage, and thyme around the turkey.

Roast in the oven for approximately 20 minutes per pound. Insert a meat thermometer into the thickest part of your turkey breast to make sure it reaches in internal temperature of 165 degrees.

Remove from oven and cover loosely with foil. Let rest for at least 15 minutes before you slice and serve.
Enjoy!
Be inspired,