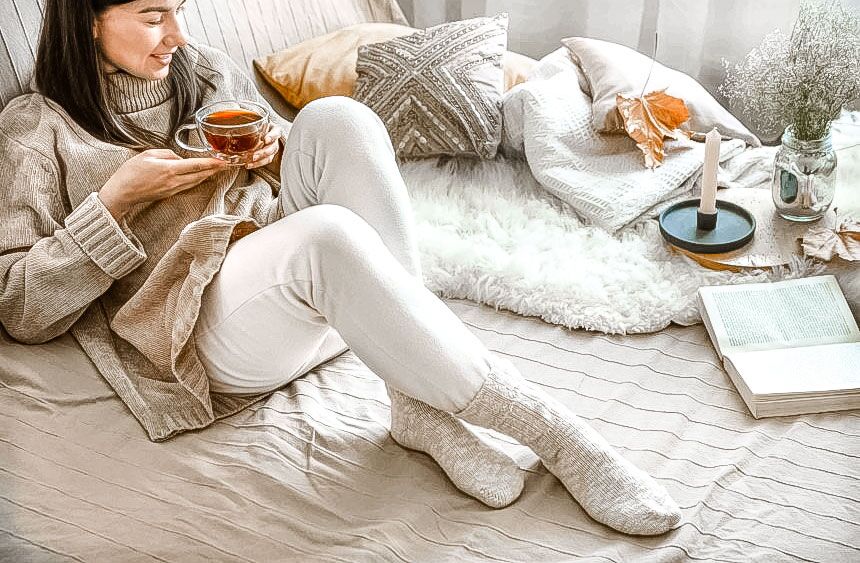 Do you smell that? The scent of pumpkin spice is everywhere, which only means one thing…fall is here! Whether you hate to say goodbye to summer (like me) or crave sweater weather, fall is a great time to check in with yourself, revisit your daily routine, and refresh your space. It's also a good time to evaluate your plan for self-care as we head into the hectic holiday season.
Fall is right around the time of the year when I start to feel physically, mentally, and emotionally drained. So, I try really hard to make time for activities that bring me joy, ease my stress, and keep me organized. Is your battery drained too? Here are 10 simple ways to recharge this fall.
10 Simple Ways To Recharge This Fall
1. Say no
Sometimes we don't realize that the word "no" is a complete sentence. Saying no can be an act of self-care because it helps you prioritize your well-being over the wants and needs of others. Setting boundaries will allow you to save space for yourself and ensure that your needs are valued as much as everyone else's.
2. Take more naps
Never underestimate the power of a good nap! When you wake up, you will be in a better mood, more alert, relaxed, and refreshed. Just make sure you don't sleep too long. About 30-45 minutes should do it. And make sure you don't nap after 3pm as it can interfere with your nighttime sleep schedule.
3. Unplug
By now, I'm sure you've heard all the benefits of taking a break from technology. So, this a reminder that putting down your devices for a while will give you a chance to recharge, refocus, destress, and become more mindful of your surroundings.
4. Declutter your space
With the change of each season, I purge an area of my home. I usually do closets in the fall and spring when I change over my wardrobe. I also go through the rest of my spaces to deep clean and reorganize. As you prepare to hibernate and spend more time indoors, consider getting your home ready by creating a calm, clean, organized space. Clearing physical clutter can also help clear up mental clutter.
5. Add plants to your space
I am a plant assassin. And it's a shame because I practically grew up in a nursery. My mom is a plant whisperer. She taught me a lot of things but taking care of plants was not one of them. But I refuse to give up because there are so many benefits to having plants in your space. Besides being a great way to refresh your space, plants bring new energy and improve your health by…
Releasing oxygen and absorbing carbon dioxide to eliminate harmful toxins

Reducing feelings of anxiety and depression and lowering stress

Improving concentration and productivity

Bringing calm and peace into your home
6. Get outside
There are so many mental and physical health benefits to being in nature. Spending time outdoors can reduce stress, boost creativity, and improve concentration. Getting at least 15 minutes of sunshine daily can boost vitamin D and elevate your mood. Go for a walk a few times a week to breathe some fresh air, get your steps in, and clear your mind.
7. Get together with friends
Research shows that socializing with friends improves your happiness, decreases your stress, and can increase your life expectancy. It's no surprise that going out with your girlfriends is good for your mental and physical health. Nothing re-energizes me more than spending time with my friends. Life doesn't always allow us to get together as much as we would like, but when we do, I always leave feeling lighter and happier. There's nothing like the fun, love, and support you share with your sister circle.
8. Take more breaks
At least once a quarter, I plan a solo retreat. I spend a day, sometimes two, giving myself the space and time to be creative, flesh out my ideas, and do things I want to do but never have time for. I also enjoy quiet time to reflect and reconnect with myself. Here are a few tips to help you get the most out of your solo retreat…
Set your intention. Decide what you want to accomplish during this time alone.
Prepare. Plan for childcare, pet care, and any tasks or activities that could cause you to be interrupted.
Create a comfortable space. I usually choose a space in my home, but you can go to a hotel, a co-working space, or anywhere you can be alone without interruption. Set the mood by lighting a candle, adjusting the lighting, creating a playlist, or whatever helps you relax.
Create an itinerary. Write down how you plan to spend your time during your retreat. No matter how you spend it, don't feel pressured to pack in too much, as that might leave you feeling more stressed than when you started. Embrace your "me" time and give yourself whatever you need.
9. Go to the doctor
While we are busy taking care of family, friends, and work responsibilities, we often put ourselves and our health on the back burner. Now is a great time to schedule those doctor appointments you may have been putting off. Delaying routine exams like your physical, mammogram, and pap smear can cause potential issues that can be avoided. Make a commitment today to prioritize your health and wellness by making and keeping your doctor appointments.
10. Review your goals
As the year rolls on, it's easy to forget or lose sight of your goals in day-to-day life. While the year is almost over, there is still time to finish strong. The change of seasons can provide a clean slate. Fall is the perfect time to review and reevaluate your goals. Take advantage of this window of time to reset, refocus, and confidently step into the new year with a plan.
Trying a combination of these 10 simple ways to recharge this fall can help you reduce stress, improve your mood, and give you the energy you need to make it through the rest of the year.
Be inspired,