Mini Heart-Shaped Apple Pie Recipe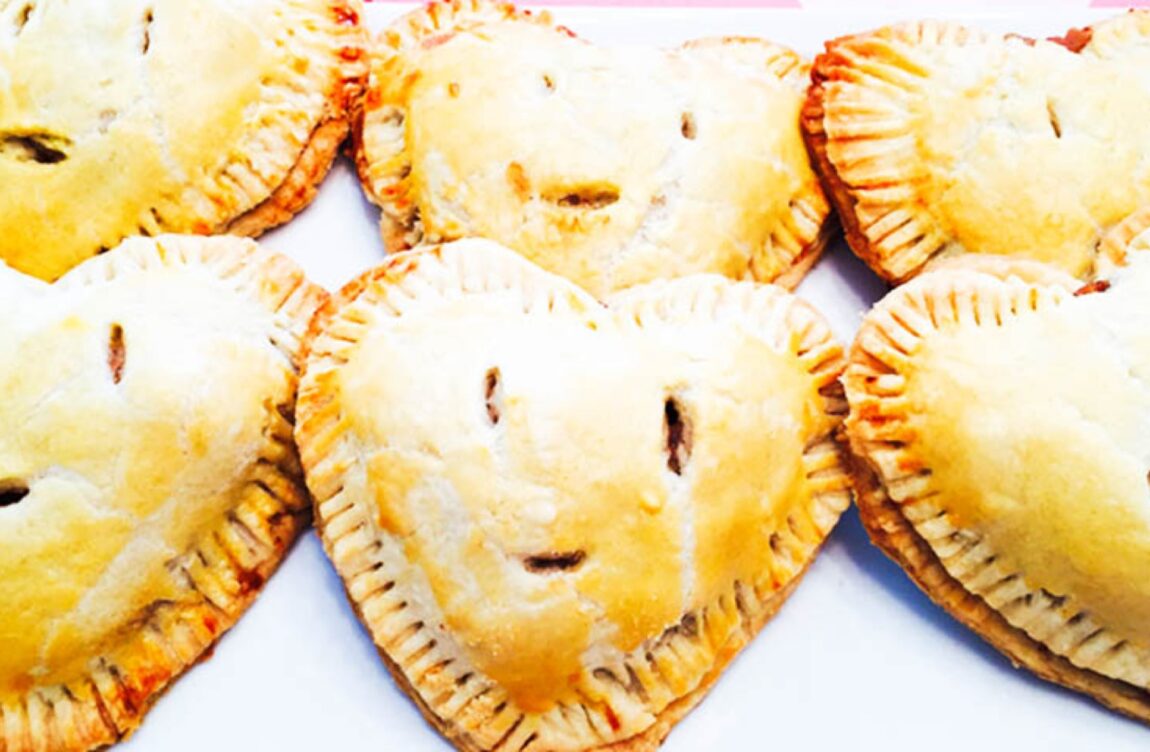 We made a bunch of sweet treats for Journey's Valentine's Day Crafternoon including these adorable mini heart-shaped apple pies.
Journey is a little apple pie fiend.  She has me baking a pie almost every week.  I thought it would be cute to make them into hearts since they were for a Valentine's Day party.  They came out great, but she was the only one that ate them.  Since she doesn't eat cake or chocolate, she wanted the pies all to herself.  So she told all the kids they didn't have any sugar.  But if she hadn't mentioned it, they would have never known that I swapped out the sugar for honey.
Here's the recipe…
MINI HEART-SHAPED APPLE PIE RECIPE
Ingredients
5

granny smith apples

honeycrisp work well also

1

homemade or store-bought pie crust

(I swear by Sally's Baking Addiction's Pie Crust recipe)

1

teaspoon

cinnamon

1/2

teaspoon

nutmeg

1/4

teaspoon

ginger

1/4

cup

honey

or sugar

1/2

teaspoon

vanilla extract

1

tablespoon

cornstarch

1

tablespoon

butter

1

tablespoon

of milk

1/2

cup

warm water

1

large egg

Heart-shaped cookie cutter

(the one I used was about 4 inches)
Instructions
Preheat oven to 400°.  In a cup, mix the cornstarch and warm water together until smooth, creamy, and the cornstarch has dissolved. Set aside.

Peel, core and dice the apples. In a medium saucepan over medium heat, cook the apple pieces, cornstarch/water mixture, cinnamon, nutmeg, ginger, vanilla, and honey. Stir constantly for 5 minutes. Switch to low heat and allow to simmer for about 30 minutes, stirring often. Remove from heat and allow to cool for 20 minutes.

On a floured work surface, roll out the pie dough. Turn the dough about a quarter turn after every few rolls until you have a circle 10-11 inches in diameter.

Use the cookie cutter to press out hearts.  Keep reforming remaining dough until it is all used. I was able to make 16 hearts.

Place the heart-shaped dough onto an ungreased cookie sheet, four at a time.  Spoon the apple filling into the center of the dough, careful not to use too much.

Use the rolling pin to flatten the top dough just a little before you place it, so that it can fit over the apple filling and meet with the edge of the bottom dough.

Use a fork to gentle press the edges down to seal the pie.  Dip your fork in flour a few times so it does not stick to the dough.

Use the tip of a knife to make slits on the top of each pie.  I had fun and made smiley faces.

Beat egg and add milk.  Brush the top of each pie with the egg wash.

Bake for about 20 minutes or until golden brown.

Best when served warm.
Happy Valentine's Day!
Be Inspired,