9 Summer Skin Care Essentials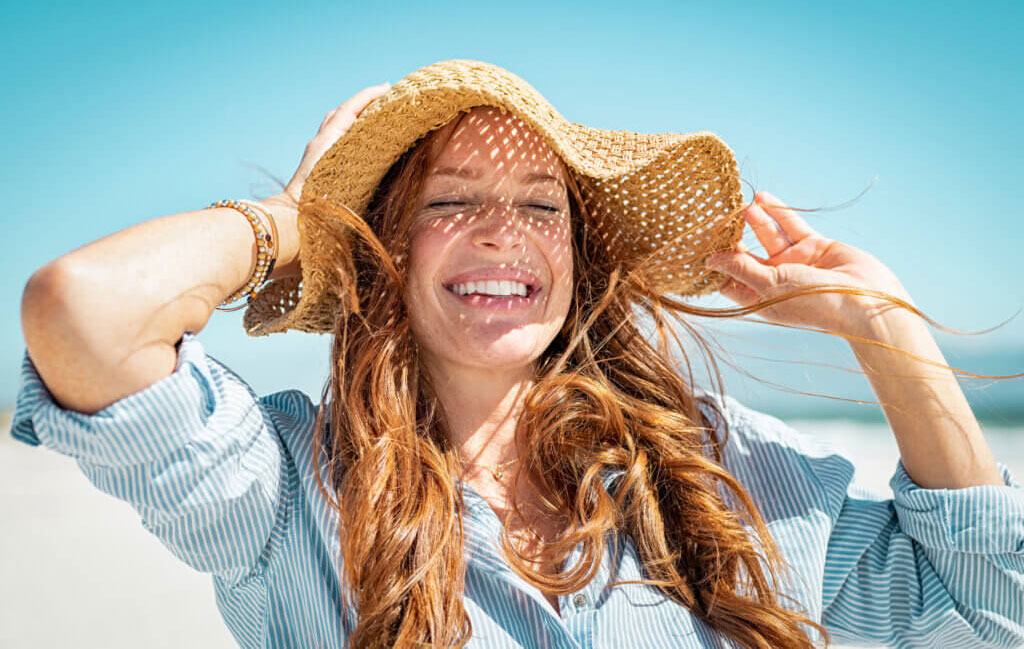 Summer is my favorite season! I love the heat and everything that comes with it. The sunshine, the beach, the pool, barbeques, and all things outdoors (minus this year's cicada invasion?). But with the season comes a need to switch up your skin care routine. Choosing the right products to protect your skin from sun exposure and breakouts is key to making sure your skin stays healthy. Here are 9 summer skin care essentials along with a few of the brands I use to keep my skin radiant and sun-kissed all summer.
9 Summer Skin Care Essentials
1. Sunscreen
By now we know all the reasons you should wear sunscreen daily all year round. It's by far the #1 summer skin care essential. But choosing the right one for your skin can be tricky. Since my family struggles with acne and eczema, I'm careful to use brands that are non-greasy and won't clog pores or cause breakouts. They are also lightweight and won't leave a white cast that makes you look like a ghost. Make sure it's the last thing you apply to your skin and don't forget ears, lips, hands and feet!
My Favs…
Face
La Roche-Posay Anthelios Clear Skin Dry Touch Face Sunscreen for Acne Prone Skin – SPF 60
ISDIN Eryfotona Ageless Tinted Mineral Sunscreen SPF 50+
Body
Mele No Shade Sunscreen Oil Broad Spectrum for Melanin Rich Skin – SPF 30
Neutrogena Sheer Zinc Mineral Sunscreen Lotion – SPF 50
Lips
eos Natural SPF 30 Lip Balm Stick
Hands
2. Facial Cleanser
A gentle cleanser will help to minimize stripping natural oils from the skin to keep it healthy and smooth without feeling dry or cracked. Cleanse with a gentle face wash to remove sunscreen and all traces of dirt  and makeup on your face.
My Favs…
3. Make-up Remover
Nothing gets rid of my makeup as easy as micellar water. It removes all traces of makeup in just a few swipes. It's gentle, works on all skin types, and leaves skin clean, hydrated, and refreshed.
My Favs…
Garnier SKINACTIVE Micellar Cleansing Water
4. Exfoliant
Exfoliating removes the layer of dead skin cells from the surface of your skin allowing moisturizing products to penetrate deeply into the skin. Exfoliation is a must if you want brighter glowing skin. Just make sure you don't overdo it.
My Favs…
Face
Revision Skincare Microdermabrasion
Dermalogica Gentle Cream Exfoliant
Body
Dove Pomegranate Seeds & Shea Butter Exfoliating Body Polish Scrub
Lips
5. Moisturizer
Summer might seem like a great time to skip your moisturizer but don't. Your skin still needs hydration. Air conditioning and sun exposure can both dry out your skin. The sun can also cause early signs of aging such as fine lines and wrinkles. Keeping your skin moisturized will help to keep it plump and youthful. Even if you have oily skin like me, you still need to follow face cleansing with a moisturizer. Just make sure you use an oil-free moisturizer that doesn't feel too heavy. Save time by choosing a 2-in-1 moisturizer with sunscreen.
While my face is oily, the rest of my skin is really dry. So I use a super moisturizing lotion for most of the year. But during the summer months I alternate with a lighter moisturizing lotion that still leaves my skin just as soft and smooth.
My Favs…
Face
Dermalogica Oil Free Matte SPF30
Epionce Renewal Lite Facial Lotion
Body
NIVEA Shea Daily Moisture Body Lotion
Palmer's Coconut Oil Formula Body Lotion
Lips
6. Insect Repellent
Just because bugs are a natural part of summer doesn't mean they have to ruin your time outside. And with the expectation of a very active tick season, insect repellent is a must to protect your skin. Make sure you apply it to any exposed skin before heading outdoors. Although DEET is most effective, if you're not a fan, try a repellent with picaridin, IR3535, citronella, or lemon eucalyptus oil. And if a few mosquitoes still get you, try an anti-inch cream to sooth your skin.
My Favs…
OFF!® Deep Woods Insect Repellent
Natrapel Picaridin Insect Repellent
Aveeno Hydrocortisone 1% Anti-Itch Cream
7. Hat
I used to love laying out in the sun. That is, until my dermatologist told me that the moles I was complaining about were coming from sun exposure. So now I make sure I wear a hat. Wearing a wide-brim hat that covers your face and neck adds an extra layer of protection against the sun's skin-damaging UV rays. It can also add some style to your bikini or summer dress.
8. Wipes
I always keep disinfectant and sanitizing wipes nearby, but since the pandemic it's become even more important. Keep these small packs in your purse, in the car, and in your suitcase when traveling to wipe down high-touch surfaces and keep hands clean while in public spaces.
My Favs…
Wet Ones Hand Sanitizing Wipes Plus
Clorox Disinfecting Cleaning Wipes To Go (Target in-store)
9. Water
This should go without saying but make sure you drink plenty of water during the summer months. Without enough fluids, your skin can become dry and dull. Plus, staying hydrated will help your organs continue functioning properly as you spend more time outside in warmer temperatures.
Got any other summer skin care essentials to add to the list?
Be inspired,