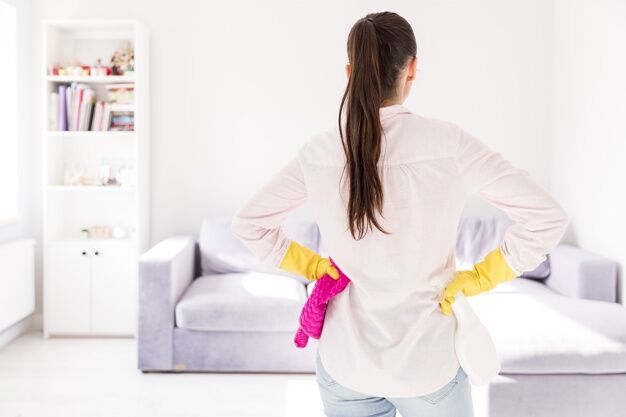 In case you haven't heard, I've claimed this summer as Self-Care Summer! This means spending more time having fun in the sun and less time doing household chores. But unfortunately, they still have to get done. So I'm sharing my method on how to keep your house clean in 15 minutes a day.
My Cleaning Credentials
I grew up in a house that could pass military inspection. My mom lovessss to clean! She goes from room to room day by day until the house is done. There was no hanging out with friends, playing video games, or any fun allowed until every room was cleaned from top to bottom. Dust didn't get a chance to settle in our house. It was ALWAYS clean. I didn't even take showers regularly until I went away to college because a shower meant you had to wipe down the tile (although in retrospect cleaning the tub after a bath was probably the same amount of effort). At the time, it was torture, but it was an education on keeping a home organized. And I learned tons of tips and tricks on how to clean every crevice of a space.
While I elect not to spend as much time cleaning as my mother does, I do have a system for keeping my home clean and organized. Whether you are a busy mom looking to save time with some quick cleaning tips or just want to keep a neat home without spending hours doing it, here's how to keep your house clean in 15 minutes a day.
Before you get started
There are two ways to apply this cleaning method. You can either decide to use the time for deep cleaning or you can use it to keep your home tidy and organized in between deep cleanings. If you want to use the time to deep clean, this list will guide you through cleaning tasks for each room in your home. No matter which method you choose, keep in mind that this 15 minutes won't replace your normal daily chores like laundry, dishes, pet chores, and the other things you have to do every day to maintain a home.
Before you begin, make sure you have all of the cleaning supplies you need for the space you are cleaning on hand. You don't want to waste time stopping every other minute to get the supplies you need to finish the job.
If you haven't cleaned in a while, you may need to declutter a bit before implementing this 15-minute cleaning method. Not sure where to start? Check out my cleaning checklist for tips on how to declutter as well as a list of recommended cleaning supplies.
You will determine how long it will take to get through your house, so I'm not adding days of the week that you should complete each chore. Instead, I'm including a list of chores by room and you can decide what you want to do each day. The idea is not to rush through each task but rather to see how far you can get in the time allotted. You can always finish the chore the next day if you don't complete it. But I do suggest spending at least 3-5 minutes putting things in their proper place in each room. Or better yet, getting in the habit of putting things back where they belong after using them will save you even more time.
And my best tip to instantly make your room look neater is to make up your bed each morning. Besides accomplishing your first task of the day, it may also inspire you to keep the rest of the room tidy.
It's Not A One-Woman Job
Keeping your home clean is the responsibility of everyone living in it. Even a toddler can learn to pick up after themselves if it becomes a part of their daily routine. Make it fun for them by making it a game before bedtime. Give them points for each day they keep their space clean with a reward or special treat at the end of the week for a job well done. Simple chores for younger children include:
Making their bed
Putting away their toys
Putting dirty clothes in the laundry hamper
Helping put clean clothes away
Of course, older kids are capable of handling more responsibility so don't let them off too easy. Give them an age-appropriate list of chores they can do in 15 minutes a day as well. The more the family pitches in, the more you can get done.
How To Keep Your House Clean In 15 Minutes A Day
Kitchen
Wipe down microwave, outside of fridge, coffeemaker, and other small appliances
Clean oven and stovetop
Wipe down countertops
Wipe down outside of cabinets
Sanitize the sink
Clean floors
Bedroom
Dust furniture and electronics
Vacuum/clean floor
Wipe down window blinds and window sills
Disinfect high-touch surfaces
Change bedsheets
Bathroom
Clean tub/shower and tile
Clean sink and mirror
Clean toilet and floor
Living/Family Room
Dust mirrors, frames, and decorative items
Dust furniture and electronics
Disinfect remote controls and other high-touch surfaces
Vacuum/clean floors
Wipe down window blinds and window sills
Dining Room
Clean dining room table
Dust mirrors, frames, and decorative items
Vacuum/clean floors
Wipe down window blinds and window sills
Office
Sanitize keyboard, mouse, and other high-touch surfaces
Dust desk, bookshelf, frames, and decorative items
Vacuum/clean floors
Wipe down window blinds and window sills
Laundry Room
Wipe down washer/dryer
Clean lint trap and sanitize utility sink
Organize laundry supplies and clean floor
No matter which way you decide to do it, making this 15-minute cleaning method a part of your daily routine will keep your house tidy and give you more time to relax.
Be inspired,