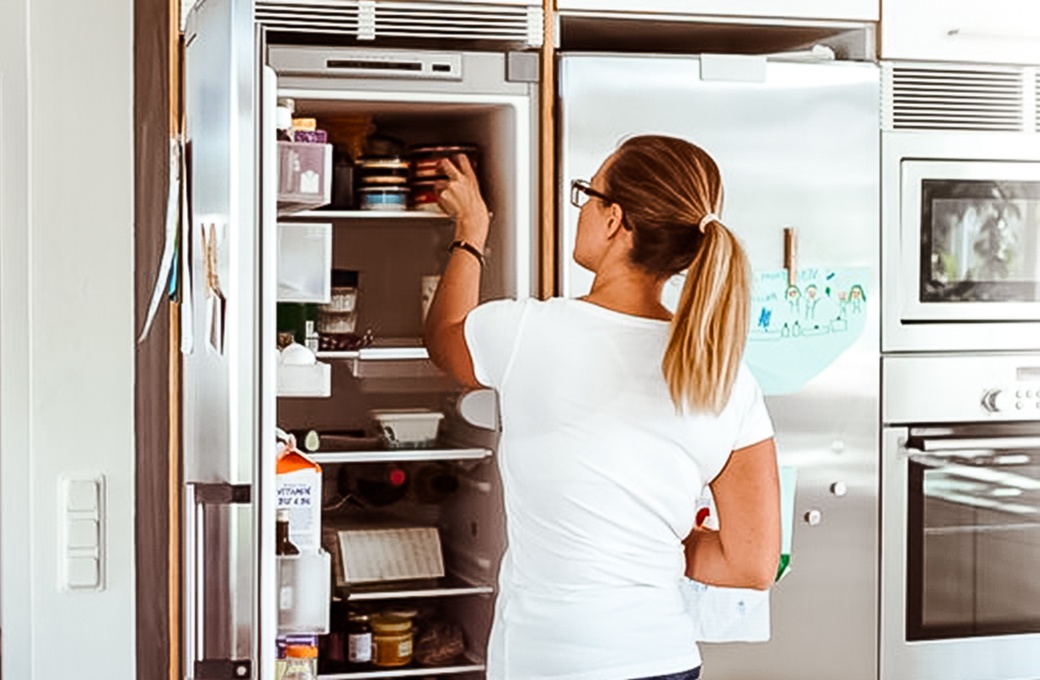 Now that the pantry is organized, it's time to share some tips on how to organize your refrigerator. Between the leftovers, expired condiments, and uneaten produce for the recipe that you never got around to making, the refrigerator can be as cluttered as your closet! All of that clutter can make your refrigerator seem fuller than it really is. And because you can't see what in it, you end up buying more of what you already have while other items rot and expire.
But with a little bit of time and a few well-placed bins, you can maximize space, waste less food and organize your refrigerator to make it more functional.
How To Organize Your Refrigerator
Measure your fridge
To determine which organizational products will best fit your refrigerator you need to measure the width and depth of the shelves and drawers. Don't forget you can adjust your shelves if needed.
Go shopping
Decide what kind of bins you will use to organize items in your fridge. I decided to go with clear bins for a uniform look that would allow me to see all of the contents. I also decided to start transitioning from plastic to glass storage containers, as they can easily go from fridge to freezer to microwave to oven. Plus, they are better for the environment and they will last for years. And I picked up a few upright reusable silicone storage bags to store leftovers and other items like muffins, salads, and snacks.
I always recommend buying more options than you think you need and return what you don't use. Because there is nothing worse than being right in the middle of a project and having to stop run out and get more supplies.
Clean out the fridge
I like to clean shelf by shelf so that nothing sits out too long. Throw out anything that is expired or gone bad. Remove the shelves and drawers and wash in the sink if you can. Wipe down all of the refrigerator walls, trim, and any other parts of the fridge with a cloth and soapy water. Same goes for the freezer.
Add shelf liner
Lining the shelves makes cleaning messes and spills a breeze.
Put everything back in order
Sort what will go back in fridge and freezer and group like items together. As you are putting items back keep in mind that the door of the fridge is the warmest part of the fridge. So things that need to stay really cold like milk should not be kept there. Instead, use the space to store low-spoilage foods such as condiments. The bottom shelf is the coldest, so put any raw meat, poultry, and fish there.
Keep items that need to be eaten first in the front of the fridge. You want to make sure you can clearly see what's been in there the longest so you remember to eat it before it spoils.
Use produce savers to neatly store cut veggies. Plus, they will keep items like onions and garlic from smelling up your whole refrigerator.
Remove bulky packaging before putting items in the freezer. Do you really need the directions for those frozen waffles? If you do happen to need directions, cut them off the package and keep them in a storage bag.
Make a plan
Having a meal plan when you go to the grocery store will prevent you from buying items you don't need. When you only buy fresh items that you plan to cook that week, it eliminates waste and saves you money.
Keep it clean
I go through my fridge once a week to assess the status of what's in there and wipe up any crumbs or spills. If something looks bad, I toss it. If it's still good but I don't think we are going to eat it, I freeze it. If I realize I've forgotten about it, I make a plan to cook it or eat it in the next 24-48 hours. Just yesterday, I realized I had kale and broccoli leftover from meals earlier in the week. So I used them as the veggies for last night's dinner instead of cooking another.
Product List…
Refrigerator bins and Lazy Susan: Marshall's (in-store)
Felli Duo Fresh Keeper fruit container: Homegoods (in-store)
Reusable silicone storage bags: Target
Freezer bins: The Container Store (large multi-purpose bin, deep fridge bin)
Shelf liner: Amazon
The Finished Refrigerator and Freezer
BEFORE: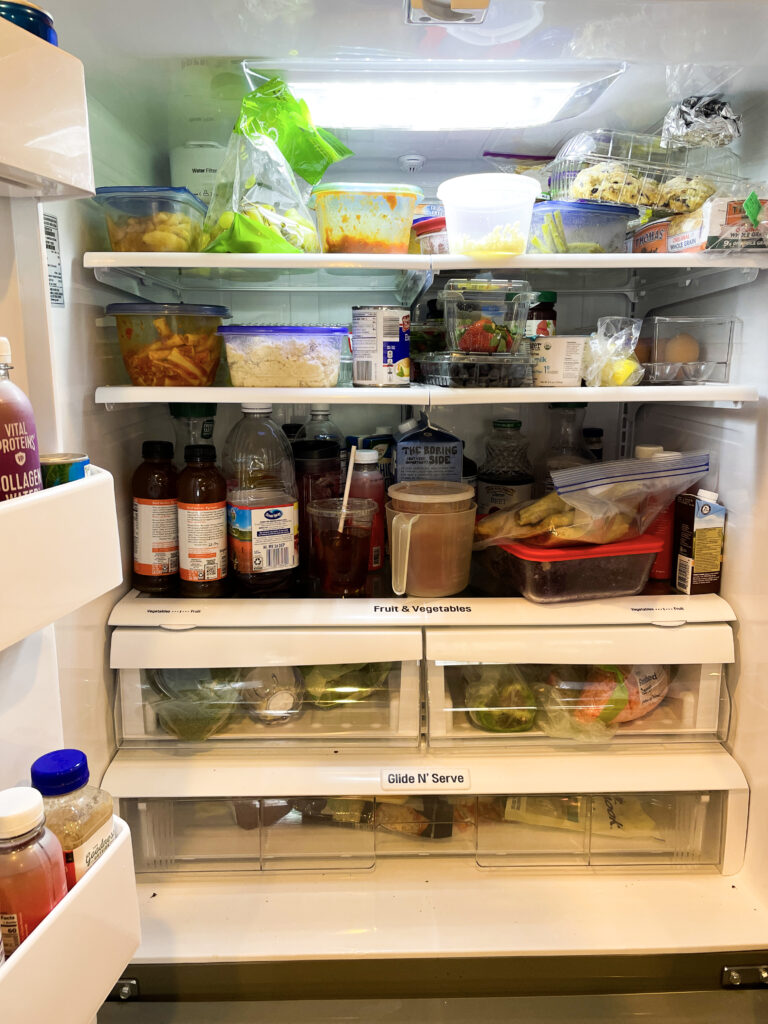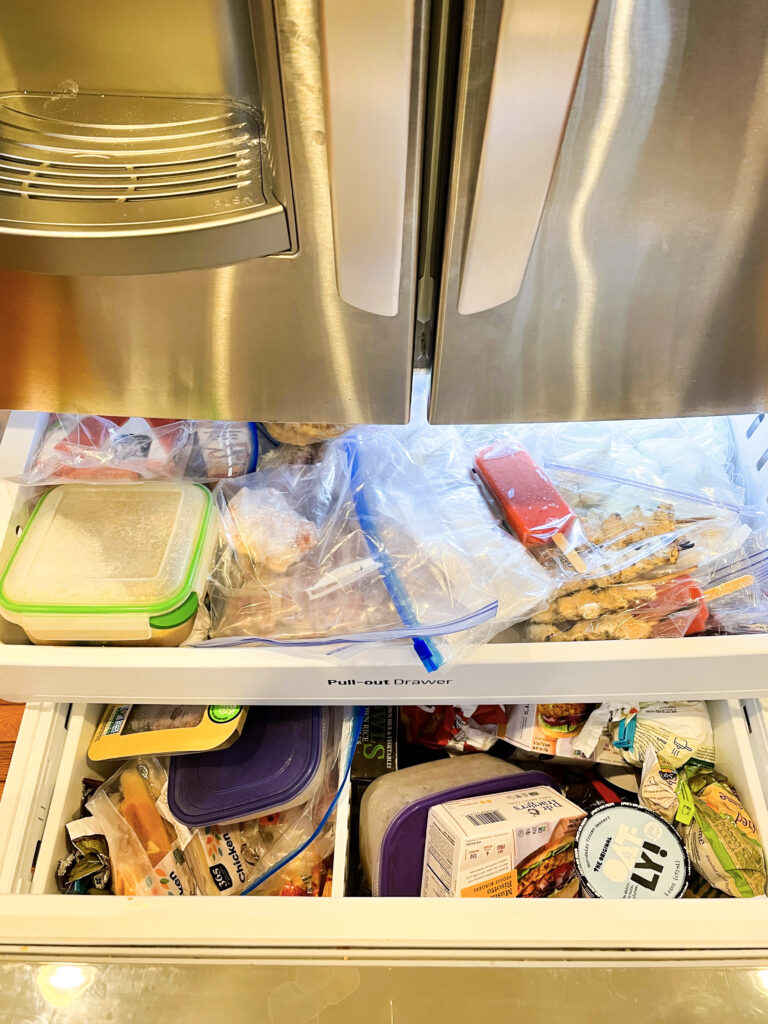 AFTER: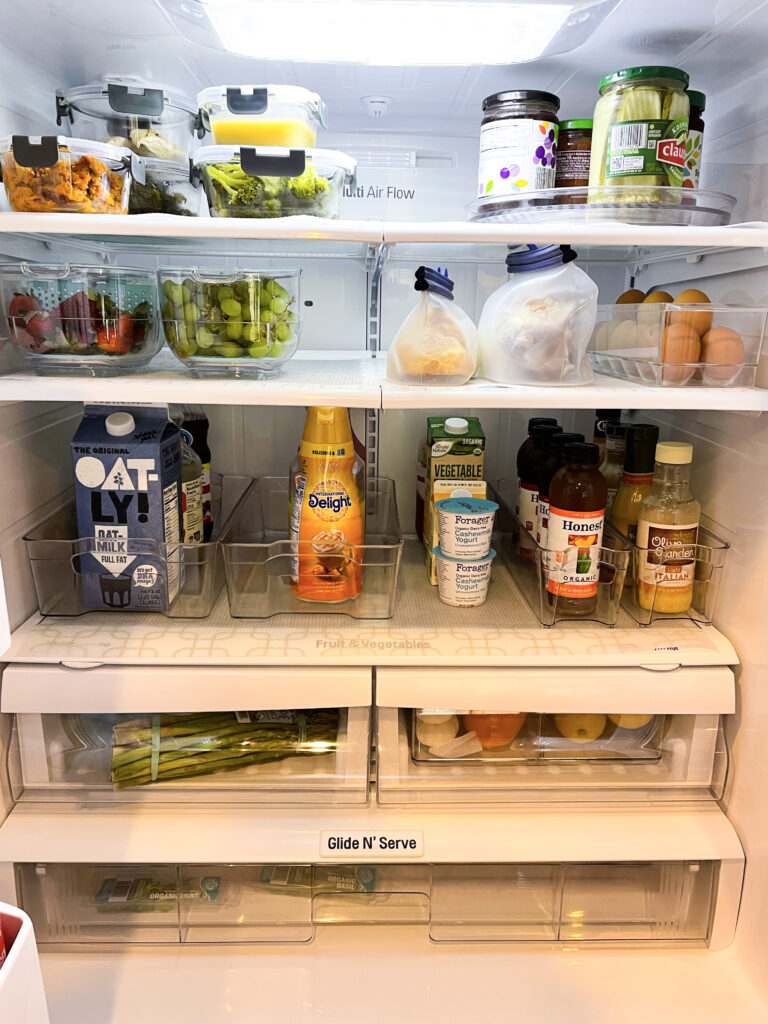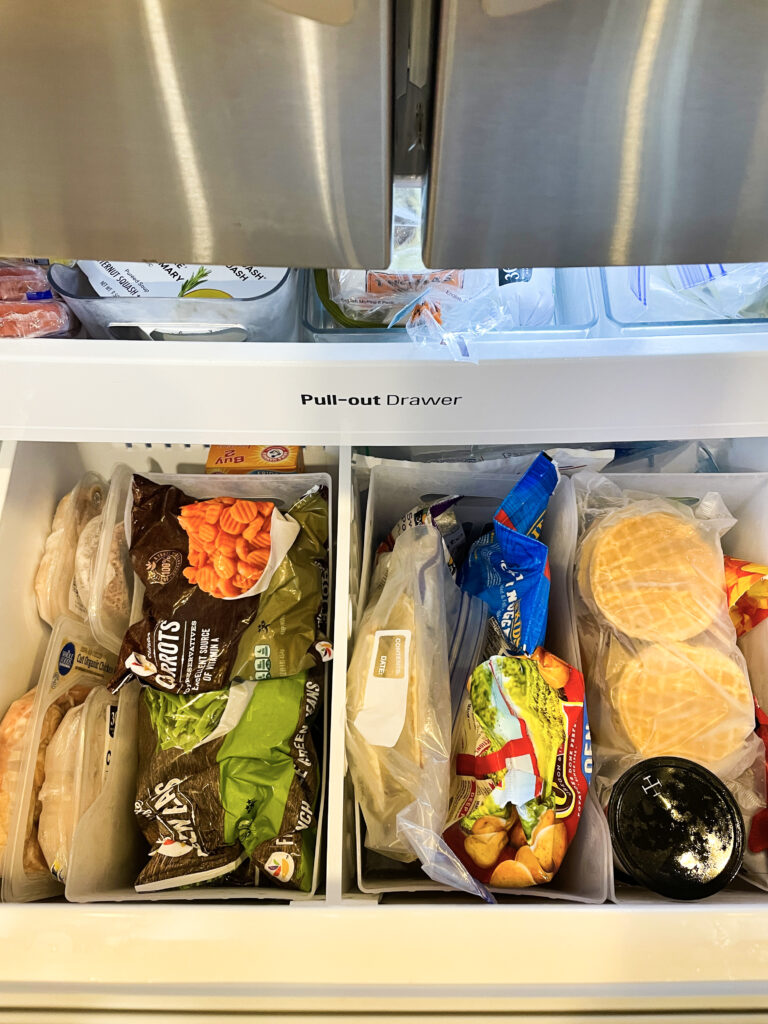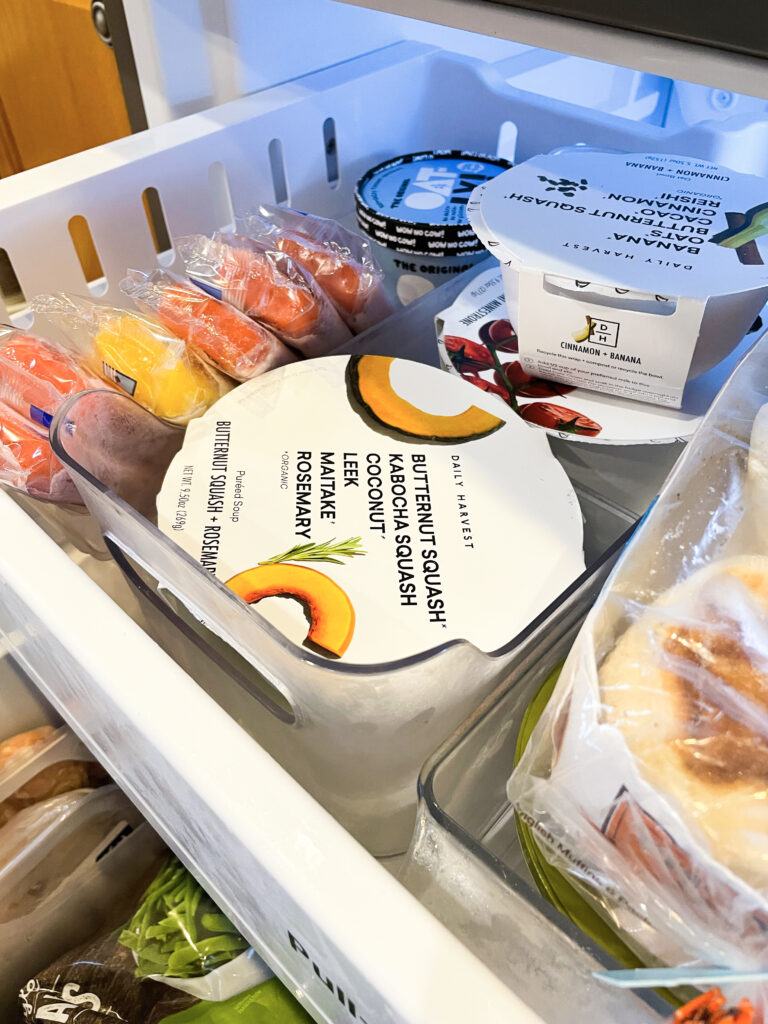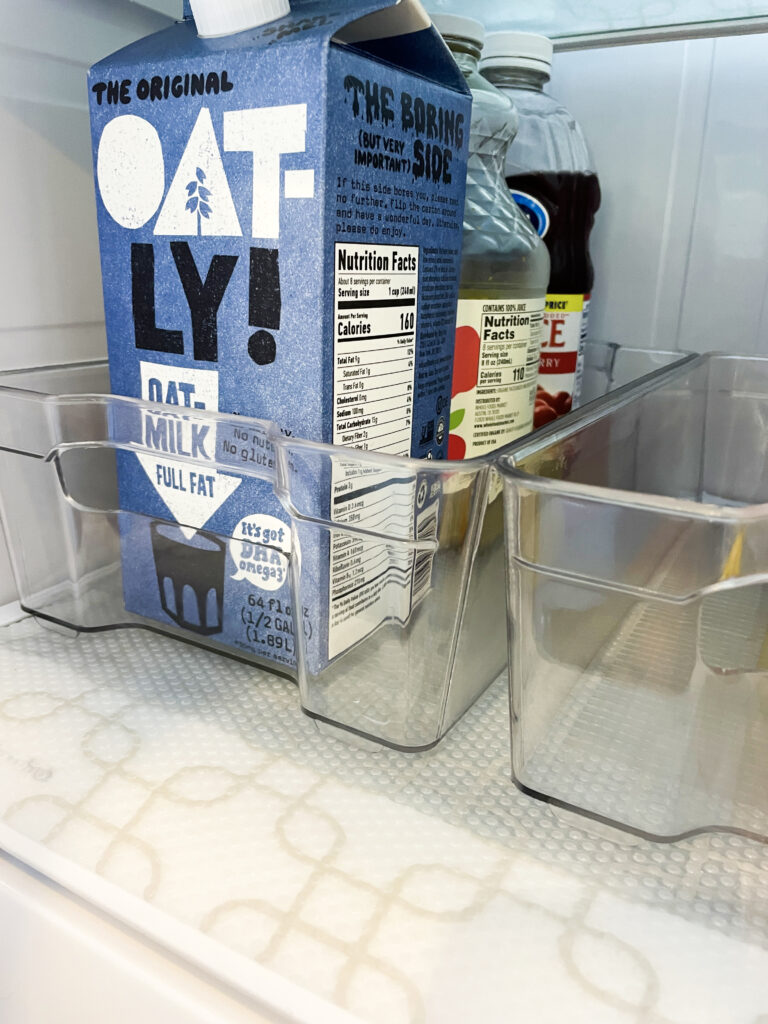 Be sure you follow me on Instagram to see some of my fav organization hacks and cleaning tips to refresh your home for spring!
Be inspired,