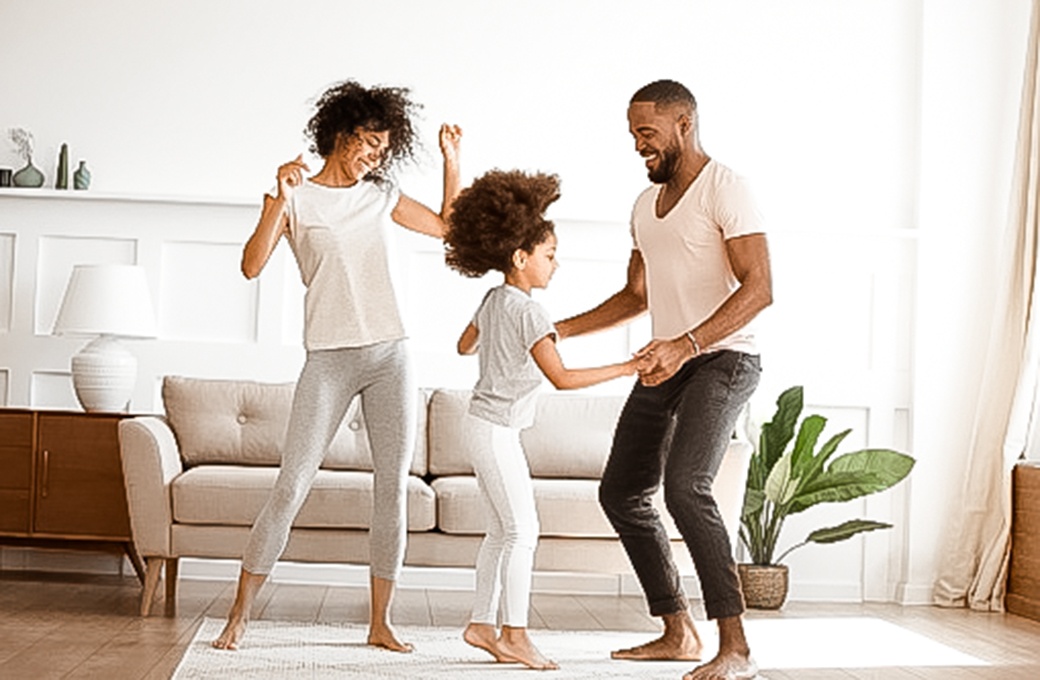 Your home should be a place of peace. Your sanctuary. Everything from the décor to the scent to the people in it should spark joy. Even though it can be chaotic at times, home should be the place where you are most relaxed and where you recharge and restore. But creating a home filled with love and happiness takes some effort. The happiest families work to stay connected and grow together. Practicing these 8 habits for a happy home will help build a strong family with love, respect, and joy.
8 Habits For A Happy Home
1. Eat meals together
Something as simple as sharing a meal can do wonders to strengthen your family bond. Whether it's breakfast or dinner, eating together gives you the perfect opportunity to slow down and connect before or after a busy day. My family has some of our best conversations over dinner. And we make it a point to share the best part of our day with each other. If you can't share meals every day, dedicate at least one day of the week to Taco Tuesday or Pizza Friday, where you get together and catch up.
2. Practice gratitude
An easy way for your family to practice gratitude is by creating a Happiness Jar. The Happiness Jar concept came from Elizabeth Gilbert, author of Eat, Pray, Love. The idea is to take a moment each day to write down something that made you happy, proud, grateful, or anything that just made you feel good and add it to a jar. Then at the end of the year, empty it and read all that you've accomplished. The jar is a great way to remind your family to find joy in the little things. We keep ours in the kitchen since it's the hub of our home.
3. Laugh together
There's something about having a good belly laugh with the ones you love that just feeds the soul. Besides strengthening your immune system, stimulating your heart, and relieving stress, laughter makes your home a happy place to be. Sharing your sense of humor lightens the mood and adds some fun to the atmosphere. In my house, we tell jokes and share funny stories that create memories and make us like each other even more.
4. Reduce clutter
Clutter can be a significant source of stress. With busy family schedules, it can be challenging to keep your home tidy and organized. Decluttering can make a big difference in the way your home feels. Keeping it clean is the responsibility of everyone living in it. Working together to keep your home neat and clutter-free can help your family feel less anxious, more productive while creating a comfortable, cozy living space.
5. Practice healthy sleep habits
Everyone is happier when they are well-rested. Good sleep is essential to your overall well-being. But unfortunately, many people are sleep-deprived. It's hard for you and your kids to be focused, productive, and happy when you are tired. A few ways to help your family sleep better include:
Sticking to a sleep routine
Putting down screens at least 30 minutes before bedtime
Sleeping at a cooler temperature
Making sure the room is not too bright
Getting a good night's sleep will keep your family feeling positive, energized, and ready for whatever the day brings.
6. Spend quality time together
Spending quality time together is key to creating a happy home. Participating in fun activities together like game night, movie night, attending sporting events, and playing outdoors encourages communication and a sense of belonging. Making your family a priority lets them know that you appreciate them and don't take them for granted. Family time is also a great way to get to know each other better while creating meaningful memories and strengthening your bond.
7. Give each other space
Just like it's important to spend time together, it's also important to spend time apart.
Sometimes you need a little space, even from the ones you love. Getting short and becoming easily irritated with each other is a sure sign that you need a break. Spending time away from your family only makes you miss and appreciate them more. Making sure everyone has some personal space at home can help manage stress and maintain mental health. That can be a home office, an extra bedroom, a hang-out space in the basement, the garage, or even a designated chair in the living room. Just as long as it's a place where you can relax and have some alone time.
8. Communicate
Effective communication at home helps your family learn to solve conflict in a productive way. Knowing that your voice is valued and respected encourages open communications and builds confidence. Modeling positive communication skills also helps your kids become excellent problem solvers and pros at conflict resolution. Some ways to improve communication with your family include:
Asking each how your day was
Put your phone down paying attention when they are talking
Practicing active listening by making eye contact
Using a neutral voice instead of talking loudly or yelling
Paying each other compliments
Acknowledging kind gestures
Not making assumptions about the intention of an action
Clearly say what you mean
Being mindful of your body language like eye-rolling, facial and hand gestures
Staying on the topic you are discussing and avoid bringing up past issues
 Not using profanity, insults or name-calling
Not interrupting or talking over them while they are speaking
Your home should be a safe space and an environment that promotes positivity and peace.
Cultivate these 8 habits for a happy home and improve the quality of life for you and your family.
Be inspired,